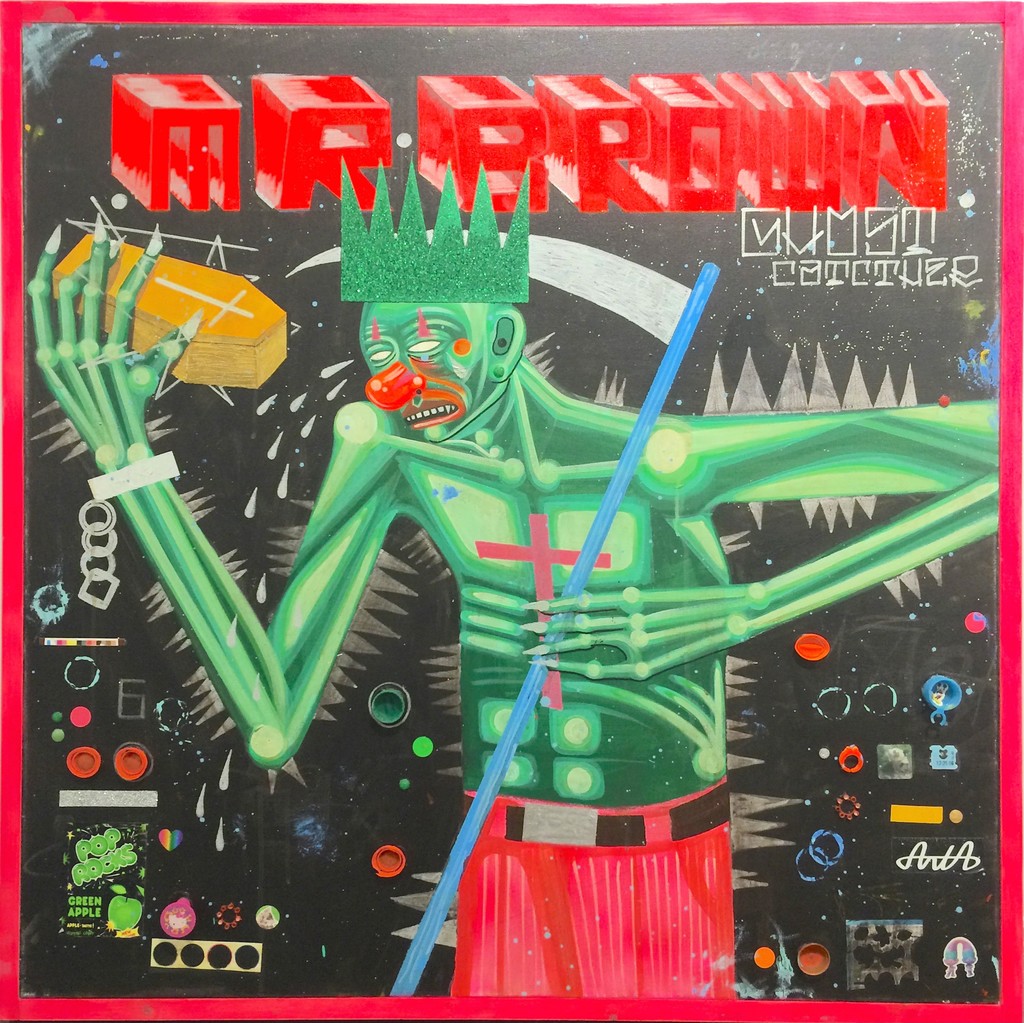 New Image Art: Carlos Ramirez
The relevancy of "Complejo de Cristo y Vampiros," Carlos Ramirez's first solo show at New Image Art, couldn't be timelier given our new president's executive orders on immigration. The American-born, Chicano artist and member of the artistic duo, The Date Farmers, discovered art early on as a medium through which he could articulate his feelings as a Mexican American, raised within the marginalized farmland community of Cochella, California, where he picked grapes as a child to help support his family.
While Ramirez integrates Mexican iconography throughout his work, his incorporation of such avoids the blatantly obvious. You Ain't Funny (all works 2016), for example, features a black jaguar, Mexico's most enduring symbolic animal. Whether viewers are attuned to the nuances of Mexican folklore does not take away from the piece's intensity. By juxtaposing poker chips, methodically arranged in linear rows around the precarious cat, Ramirez urges viewers to question how, or even if, the indigenous can adapt within America's consumer culture.
I Ain't Your Clown conveys a similar narrative. By playing with what many Mexicans revere as a symbol for revelry, Ramirez portrays the celebrated "el payaso" as a fool, wrongfully exploited by "the man." With an orange birthday cake in one hand and a festive party hat on his head, Ramirez's clown expresses both disappointment and rage. Clearly distraught, he sheds tears but also assumes a sturdy stance, resilient enough to pounce if provoked.   
While Ramirez's work clearly speaks to the struggling immigrant, it also extends to a broader audience inclusive of all whom have endured social inequities. This is because none of his subjects appear as victims. Instead, they communicate a prevailing sense of purpose. Even in Don't Shoot and Oh Shit!, each which features a man of color assuming the "hands up" gesture, Ramirez characterizes his subjects as emblems for change in a world where many still maintain antiquated attitudes about race, religion and the color of one's skin.
Ornamented with found objects including candy wrappers, bottle caps and playing cards, Ramirez's mixed media works bring to mind the tense yet playful presentation characteristic among the 1980s neo-expressionists. Much like the descendant of Puerto-Rican and Haitian immigrants–Jean-Michel Basquiat, Ramirez employs a primitivist approach that not only resonates among his Mexican-American peers but also speaks to the many that fall outside the mainstream and thus have had to overcome adversarial hardships. 
Carlos Ramirez, "Complejo de Cristo y Vampiros," January 14 – February 14, 2017 at New Image Art, 7920 Santa Monica Blvd., West Hollywood, CA, www.newimageartgallery.com.
.