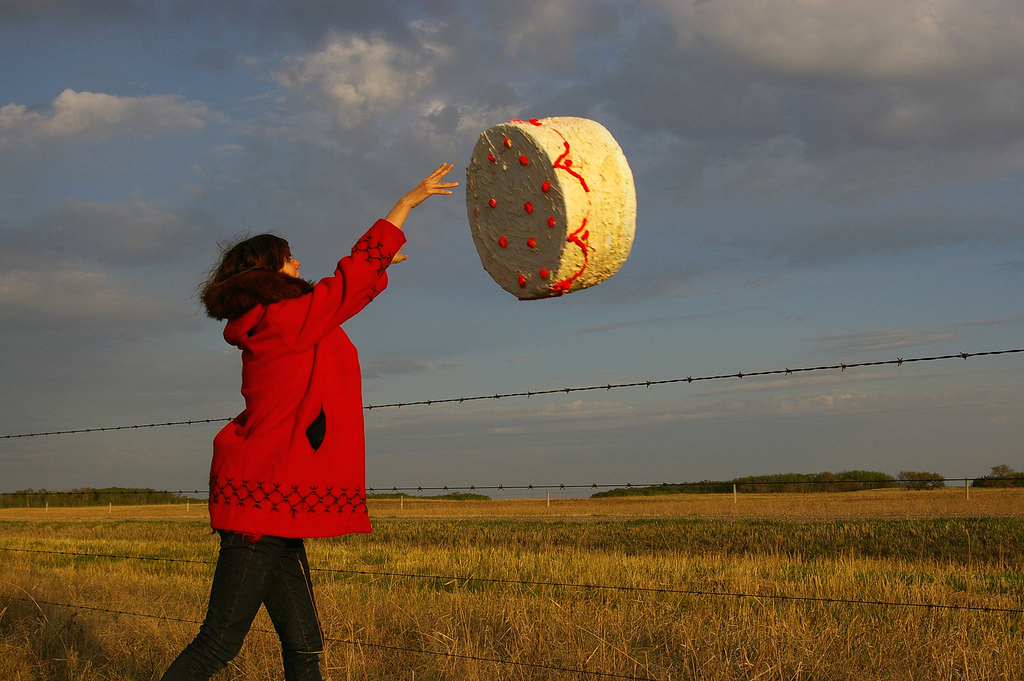 NEIGHBORHOOD WATCH
One of the largest survey shows of contemporary Canadian art ever produced, "Oh Canada," is the culmination of five-year's research and 400 studio visits by North Adams MASS MoCA curator Denise Markonish. It joins a history of international survey exhibitions of Canadian art as well as biennials in Montréal, Alberta, Quebec City and by the National Gallery of Canada in Ottawa from 1926 to 1989. The project's scale—120 works and 10 commissions, by 62 Canadian artists—is a testament to Markonish's genuine curiosity about Canada and the impressive scope of contemporary art being produced there.
Realizing that she knew more about artists from China than artists from her northern neighbor, Markonish set out to counter what she calls an "extreme exoticism" in the art world by looking for work closer to home. For better or for worse, she chose not to include many of Canada's best-known visual art exports: Vancouver photoconceptualists like Jeff Wall, Roy Arden and Rodney Graham, or others like David Altmejd, and Janet Cardiff and George Bures Miller, who now mainly live and work abroad.
"Oh Canada" is an idiosyncratic snapshot of current art that highlights several surprising works by Canadian artists. It has no overall theme, but there are a number of inter-related ideas—conceptualism, cultural hybridity, colonialism, material and craft practices, surreal humor and popular culture—introduced in the 450-page catalog, which includes Markonish's epic essay, "Oh, Canada: Or, How I Learned to Love 3.8 Million Square Miles of Art North of the 49th Parallel," reflections by creative writers, critical regional overviews by Canadian curators, artist-to-artist interviews and a historical timeline. Notable is the impressive legacy of Canadian conceptual art, which had its heyday at the Nova Scotia College of Art and Design (NSCAD) in Halifax in the '70s under the leadership of conceptual painter Garry Neill Kennedy, who produced new work for the exhibition. Process painter Eric Cameron, known for his thick paintings, would arrive there from the U.K. and later migrate west to teach in Calgary, as would performance/installation artist Rita McKeough, a Halifax native who now teaches at the Alberta College of Art + Design. Octogenarian Ontario filmmaker and jazz musician, Michael Snow's 62-minute fixed frame video Solar Breath (Northern Caryatids) (2002) evocatively recallsWavelength (1967), a conceptual classic about place, space and time. Lines of association are drawn between these artists and other generations of NSCAD alumni: Micah Lexier, Kelly Mark, Graeme Patterson and Michael Fernandes, as well as diverse conceptual practices in other parts of the country.
Much of the work engages material and craft-based practices that re-materialize the art object through process, labor and hand skill, hallmarks of late conceptualism. Luanne Martineau's felt-sculpture Form Fantasy (2009) straddles high modernism and craft, mashing-up references to Robert Morris and Barnett Newman with feminism and popular culture. Gisele Amantea's site-specific commission Democracy (2012) cloaks a long entrance foyer with an enlarged black velvet flocked design by the American modernist architect Louis Sullivan, who saw ornamentation an expression of democratic principle. Ornamentation is seen as an expression of conquest and violence in David R. Harper's Finding Yourself in Someone Else's Utopia(2012), and it becomes indicative of class and gender in Clint Neufeld's cast porcelain truck engines displayed on Victorian settees. A younger generation of painters, Etienne Zack, DaveandJenn and Chris Millar construct baroque narrative bricolages steeped in popular culture, the history of art and the materiality of paint; they make paint do things it shouldn't do!
"Oh Canada" has a playful, wry, ironic tone that artist Pan Wendt says is typical of "Canada's messy pranksterism." Indeed the Cedar Tavern Singers have made an artistic practice out of it, and their newly recorded song "Oh MASS MoCA" sings funny anecdotes about Canadians in the Berkshires. Pointedly, John Will's title wall implicates all of the artists by name, then facetiously cancels them out with a graffitied "NOTHING." Dark humor persists in Shary Boyle's fantastical drawings and Spider-Woman installation, Patrick Bernatchez's surreal film Chrysalides Empereur (2008—11) and a Dada-inspired video by Marcel Dzama. Sentimentality becomes post-ironic in Daniel Barrow's exquisitely complex projected drawing installation "The Thief of Mirrors" (2011) and in Amalie Atkins' "Three Minute Miracle: Tracking the Wolf" (2008), a sugary sweet performance and film installation about reciprocity.
The idea of Canada is constantly being re-imagined here. The trickster is alive in Kent Monkman's double diorama Two Kindred Spirits (2012). It tells an amorous tale based on fictitious duos, Tonto and the Lone Ranger and Germany's Winnetou and Old Shatterhand, an imagined reversal of colonial power, the legacy of which continues to shape Canadian identity and inflict devastating effects on aboriginal peoples. With reference to the oil industry, Rebecca Belmore and Terrance Houle address how political-ecological exploitation affects us all. Inspired by the Radical Faeries, a gay hippie subculture, Noam Gonick and Luis Jacob's utopian geodesic dome video installation "Wildflowers of Manitoba" (2008) also imagines an alternative history. More menacingly, Charles Stankevich's mesmerizing video installation "LOVELAND" (2011) tracks a purple cloud from military smoke grenades across the Arctic Ocean, a sublime homage to Jules Olitski's Color Field painting Instant Loveland (1968) that also serves as an ominous reminder of current tensions in the far North. The idea of the North is less abstract in Annie Pootoogook's pencil crayon drawings of the sometimes heart wrenching social conditions in Cape Dorset, and Joseph Tisiga's watercolors of indigenous life in the Yukon today.
The struggle to maintain an identity while becoming something else is a very Canadian story. In her essay, Markonish notes differences between Canadian and U.S. immigration policies; differences that result in a complex Canadian identity where there is no singular culture but newly formed hyphenated identities. One could argue that since the Canada Council for the Arts (a main funder of the show) was founded in 1957, and artist-run culture began the parallel gallery system in the '70s, Canadian cultural policy has also chosen to foster diversity within Canadian art. Markonish cites the fierce autonomy of Les Automatistes, mid-century Québec modernists who railed against the provincialism of the Catholic Church; and Greg Curnoe's radical regionalism in London, Ontario, which struggled to maintain a distinct Canadian cultural identity against the overwhelming influx of cultural exports from the U.S. Curnoe also co-founded Canadian Artists' Representation (CARFAC) in 1968, which advocates for the improved financial and professional status of artists to facilitate maintaining their artistic practices. So, in amongst the art there lingers a political question too about the differences between the Canadian and American cultural (and other political) systems, and how they affect artistic production in each country. Markonish's "Oh Canada" seems to yearn, not without envy, for what can be learned from one's neighbor.
"Oh Canada: Contemporary Art from North North America," MASS MoCA, North Adams, Massachusetts, through April 1, 2013, for more info: massmoca.org