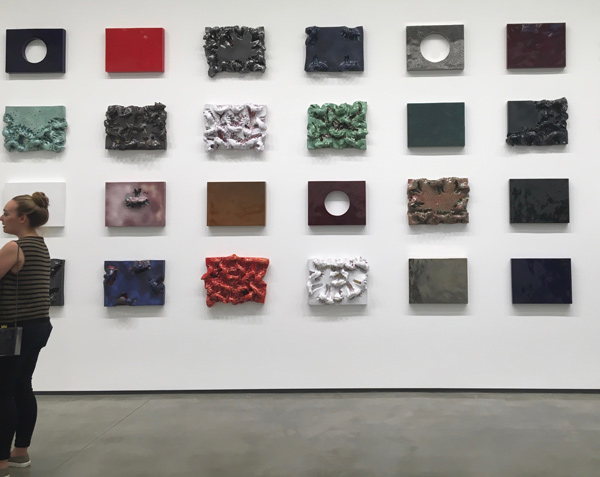 Look and Run
David Kordansky Gallery; Kayne Griffin Corcoran
There was a cool sense of relief walking into David Kordansky's gallery and seeing that the great turn out for Mai-Thu Perret's "Féminaire" and  Lesley Vance's "12 Paintings" was still abuzz. With much to take in, simply retaining all the beauty of each individual piece in one viewing was simply not feasible. Normally when I show up at openings solo, I like to bounce back and forth between rooms and scope out which artworks become crowd favorites.
The room for Perret's exhibition felt like walking into a museum space with its high ceilings. It was very open and spare; the perfect environment for observing the art as well as taking many stunt-worthy photos for Instagram in front of Les guérillères, an installation comprising several figurative sculptures strategically placed on a raised platform. With all the selfie-takers, I took my cue to check out Vance's paintings in the other gallery, making eye contact on my way out with artist, Calvin Marcus. Vance's exhibition was definitely the hangout spot. Lots of short-sleeved shirts, hats, cute shoes and pups. After doing a few rotations, I ran into the the art director and  owner of SoCal Arts Resource, Daniel McNerney. Getting the you-need-to-leave-vibe we humpbacked over to Kayne Griffin Corcoran together as many other gallerygoers did as well.
Rosha Yaghmai's "The Courtyard" reminded me a lot of my secondary home outside the States. The audience she drew were many close family members, friends and other artists like painter  Samira Rostamabadi, with viewers trying to figure out the fabrication of her work. I noticed a few individuals sitting on her Fiberglass Bench which is always kind of dicey since you never know if furniture in shows are meant to be sat on or not.
Wrapping up chats with artist, Henry Vincent over Tatsuo Kawaguchi's work also in the show and recognizing the same you-need-to-leave-vibe, visiting these galleries on opening nights invite for late night dinners.