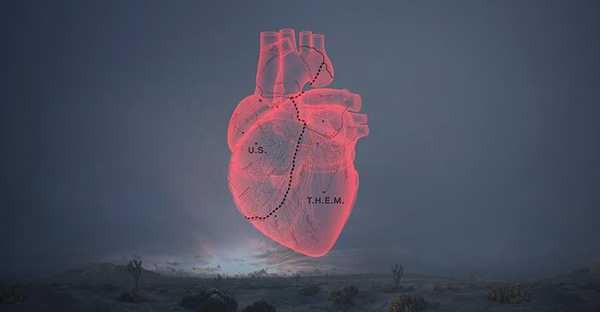 LACMA: Alejandro G. Iñárritu: CARNE y ARENA
Only one visitor enters Alejandro Iñárritu's installation CARNE y ARENA at a time. If you're lucky enough to get a ticket, you'll begin in a startlingly cold room lit by hard fluorescent lights buzzing overhead. Beat-up sneakers and water bottles lie underneath metal benches—actual shoes and bottles discarded by migrants and refugees near the US-Mexico border. Someone is watching through a security camera and tells you through loudspeakers to take off your shoes. After waiting, alarms go off alerting you to move to the next room: a warehouse-like space with a dirt floor and a long, eerie red light where two facilitators cinch you into a backpack and Oculus Rift virtual reality headset and step away, dropping you into the desert at sunset.
Iñárritu places the viewer into a scene in which about a dozen people are crossing the border. He masterfully directs the viewer's attention from the couple that collapses, to the mother carrying a newborn, to the child caught in the spotlight from a helicopter pummeling the air while border agents furtively move in behind you. Within this scene is a dream sequence that functions as an allegory. Within the characters is a view of their anatomy; literally lean your head into one of their bodies and you see their heart beating, pounding. The six and a half-minute sequence feels like half an hour and any ordinary attempt to describe the installation's mechanisms or what happens in that moment in the desert would, I think, diminish the effect.
Just as quickly, the scene ends and the facilitators hustle you into a dark hallway with quiet video portraits of the people whose stories comprise the desert scene. A Guatemalan grandmother slept in trash bags to keep warm at night. A Honduran woman pretended to be a lesbian so the Mexican police wouldn't touch her. An eleven year old told by his parents that he was going on vacation received 12 vaccination shots while in US custody. And then the hallway ends and you're back in Los Angeles. With only four people permitted an hour starting at $30 a ticket, and yet so riveting and immaculately realized, I wonder, why should so few people be allowed to experience it?
Alejandro Iñárritu: CARNE y ARENA from July 2, 2017 at LACMA, 5905 Wilshire Boulevard, Los Angeles, 90036, lacma.org.