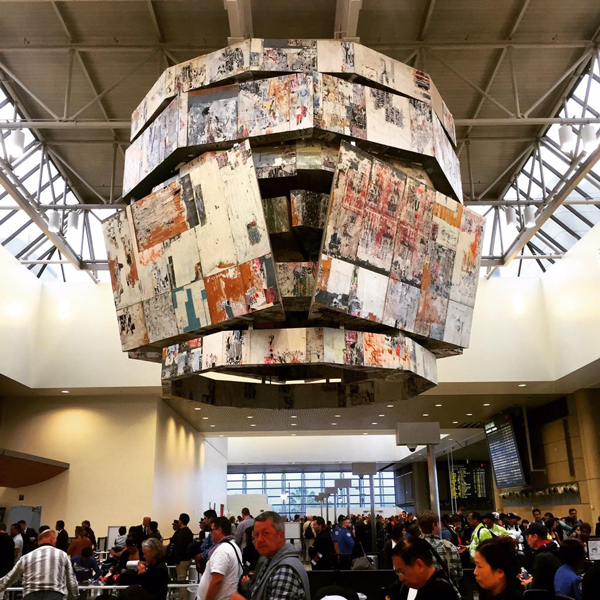 PUBLIC DISPLAY
SoCal Sculptures that Don't Disappoint
Where cities are being built up and money spent, local legislation has often passed a percent-for-art program; alternately, cities look to create stable partnerships between the public and private sectors, so some of that money is made available for public art, too. In the past, this has meant producing somewhat conventional monuments and commemorative images. Since the 1980s, public art programs have been better administered and present a much more contemporary image of the art world. The general rap: new public art is often quite amazing. Relatively recent high profile additions to the LA area include the following sweet spots.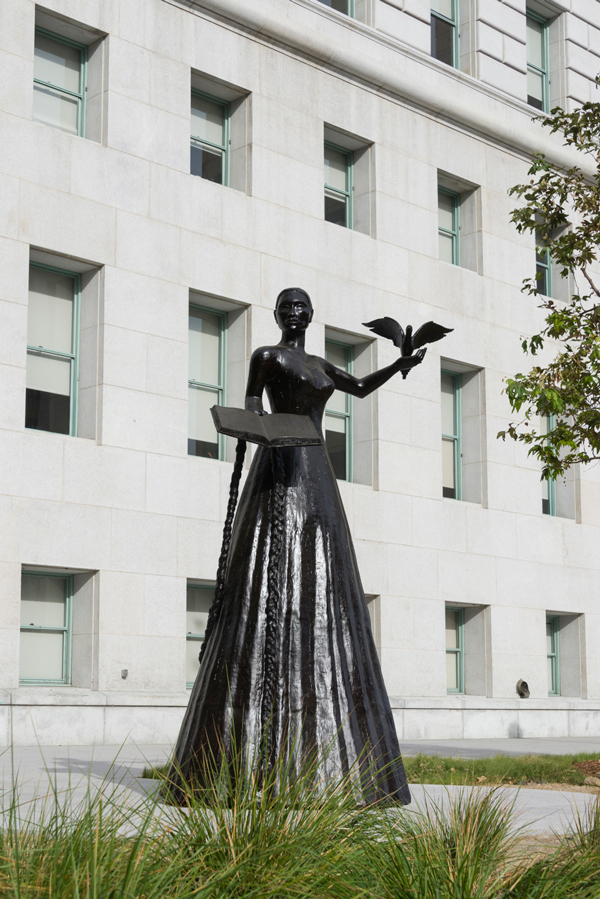 1. Alison Saar, Embodied, 2015
The Hall of Justice
211 West Temple Street
Los Angeles, CA 90012
Saar's monumental figurative bronze sculpture representing the spirit of Justice stands guard outside the Hall's garden in all her composite ethnic splendor.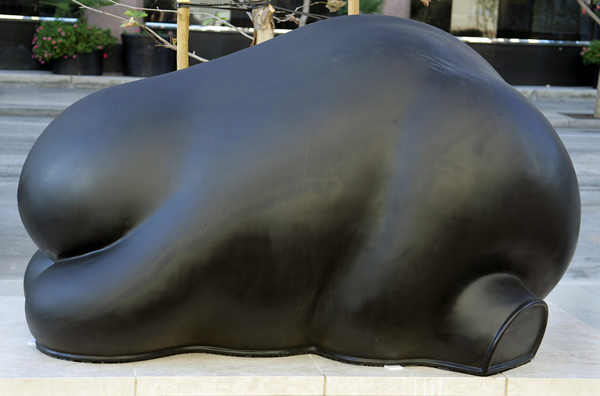 2. Peter Shelton, Sixbeaststwomonkeys, 2009
Los Angeles Police Administration Building
100 West 1st Street, LA 90012
The six plinth-mounted bulky, lumbering, volumetric bronze 'beasts' vaguely conjure up simian-like and elephantine vestiges as they silently hold vigil outside the headquarter's entrance.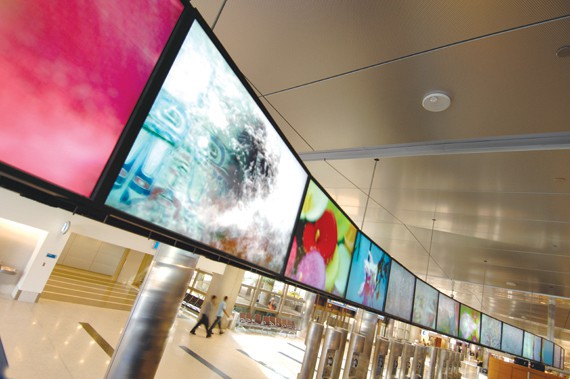 3. See Change, 2012
Thomas Bradley International Terminal
Arrival Area
This 58-screen, 90-foot linear video permanent installation suspended from the ceiling in the TBIT arrival area features 28 site-specific artworks that add up to four hours of moving images from artists throughout the USA.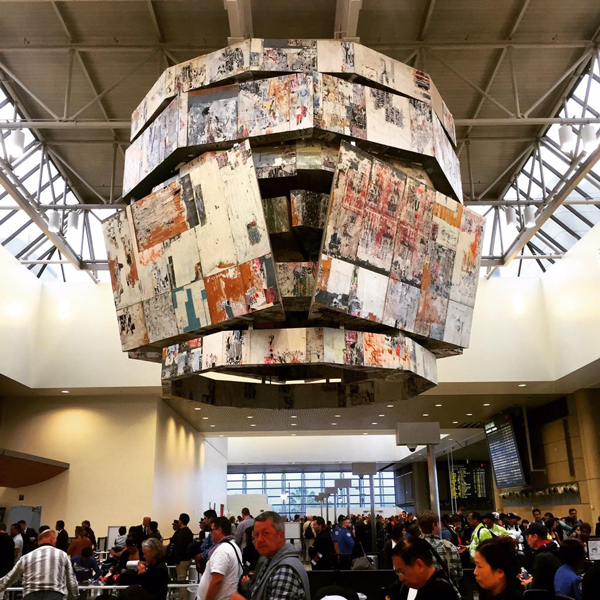 4. Mark Bradford, Bell Tower, 2015
Thomas Bradley International Terminal
Departure Hall
The massive suspended sculpture titled Bell Tower hovering above the passenger securitÔy screening area at TBIT mixes Bradford's characteristic found wood panels and printed posters into a symbolic heraldic sentry.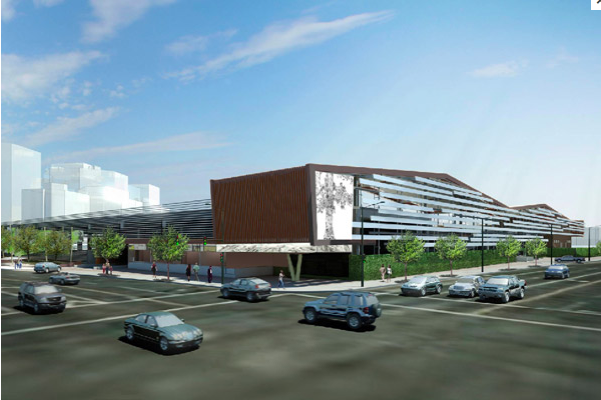 5. Christine Ulke, El Aliso de Los Angeles, 2015
MTA/Division 13 Bus Maintenance and Operations Facility
corner of Cesar Chavez and Vignes
Historical collaging make up the highly detailed drawings trees that were transformed into a large grid of LED lit translucent panels turning the corner of this MTA Facility into an icon of transfigured nature by day and a lantern by night.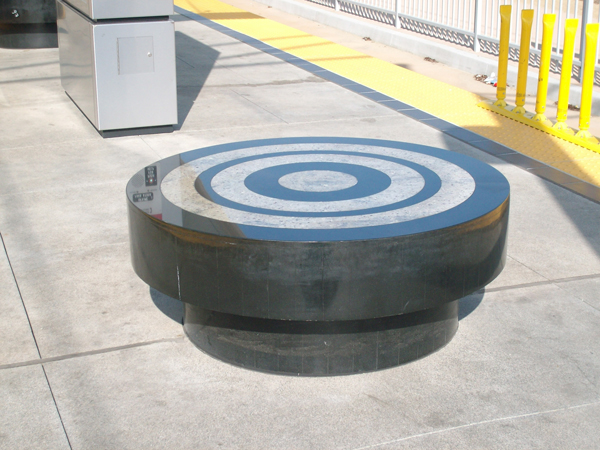 6. Hirokazu Kosaka, Buffer Zone, 2009
Little Tokyo/Arts District Station on the Gold Line
Station canopies that take the shape of three different Japanese archery bows, accompanied by Zen archery target benches replete with concentric circles of black and white, are all set into a platform paving design echoing Japanese tatami mats, collectively recalling how the perfect shot requires exact timing.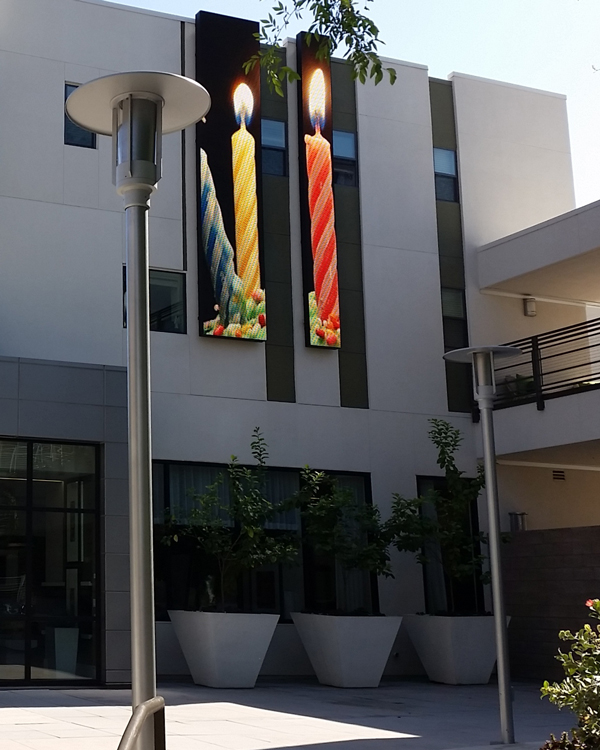 7. Susan Narduli, Timekeeper, 2014
231 S. De Lacey Ave. Pasadena
Four large-scale panels relay 40 hours of image loops about the issue of Time to passersby through animated elements, video, generative patterns and live feeds, conveying meanings that are both personal and societal.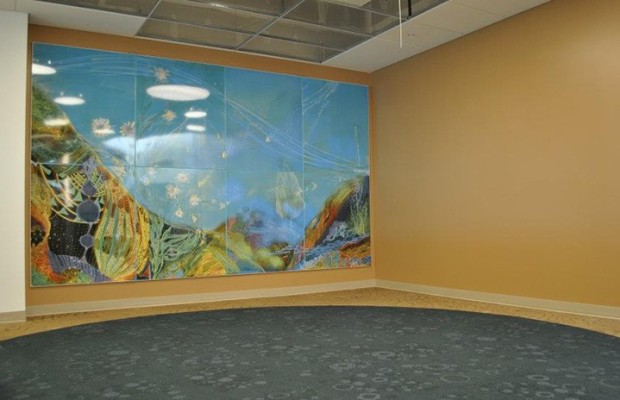 8. Christine Nguyen, Oceanic Cosmic Whisper, 2012
Malibu Library, Malibu, CA 90265
Building up the images for Oceanic Cosmic Whisper ended up by crafting a water-swept dreamscape that take readers into a world where the real world of beaches and surreal world of the imagination converge.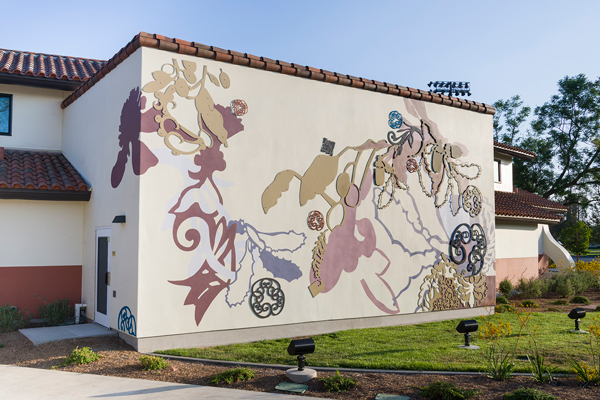 9. Mara Lonner, San Angelo Landscape,  2015
San Angelo Park Community Center
245 San Angelo Avenue
La Puente, CA 91746
Deploying forms derived from vintage illustrations of native California and Mexican plantos, this new 2 and 3D landscape wends its way up and down the outside walls of the building, playing with forms, colors, light and shadow.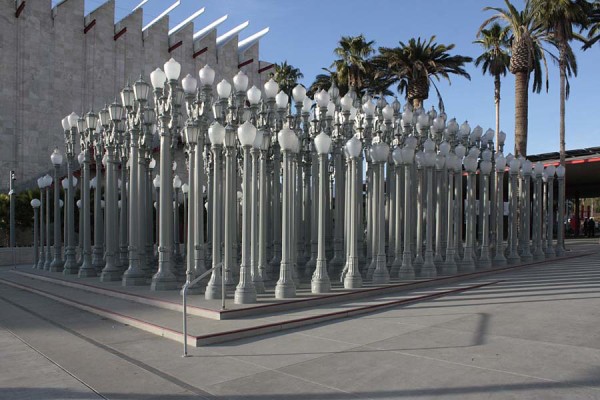 10. Chris Burden, Urban Light, 2008
The Wilshire entrance to LACMA entry plaza is inhabited by some 200-plus old fashioned cast-iron street lamps. Burden's composition recalls a Classical Greek temple but more importantly and whether or not the lights are on, it has become a destination where anyone can count on making their rendezvous without the usually torturous LA directions.