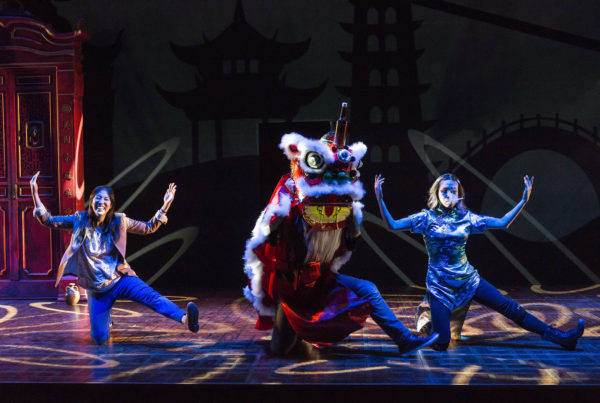 "King of the Yees"
at Kirk Douglas Theater
What is Chinatown, and what does it mean to a younger generation who can't even speak Chinese?  The play "King of the Yees" (through August 6) makes an attempt to address that issue, via the story of a father-daughter relationship at the crossroads.  It is also about theater, and how one way to keep things lively is to keep switching between presentational modes, as playwright Lauren Yee does.  At the outset we're introduced to Lauren, a 30ish Chinese American woman, and Larry, her father, standing in front of the Yee Family Association building and arguing whether that association (or Chinatown for that matter) has any relevance anymore.  They're interrupted by the "real" father (Francis Jue), who's curious about how he's being portrayed.  At which point the "real" Lauren (Stephenie Soohyun Park), author of the play, steps down from the audience.  She has already moved to New York, and plans to move even farther — to Berlin, where her non-Chinese husband has found a job.  In repeatedly speaking directly to the audience and having actors appear in the audience's space, "King" cleverly plays with breaking down the "fourth wall" of theater. 
Playwright Yee (yes, the real-life Lauren Yee) depicts Chinatown as a rickety funhouse, full of hokey thrills and distorted mirrors.  She cycles through a number of Chinese stereotypes in this play – the overbearing parent, the Chinatown mafia gangster, the carping shopkeeper, the healer with the long white beard – but she twists them just so that we are both laughing at them, and laughing with them.  There's a lot of wink-wink in the portrayals – as if to say, "Yeah, we know we're ridiculous, and we want you to know that we know!"  Larry is not only the overbearing parent, he's also a gung-ho volunteer campaigner for Chinese American politician Leland Yee (who later turns out to be a crook – yes, real life tossed in here).   The healer is a chiropractor who also does acupuncture and herbs, and wears a fake white beard like the master in old Hong Kong martial arts movies.  Using minimal props – a double door that's the entrance to the Yee Family Association, two long rods hung over the stage that are turned to create different shapes, and projected images – the play manages to transport us on a crazy Surrealistic joyride.
There is indeed much that's funny and a little that is memorable.  As Larry, Jue is especially outstanding, His smooth sense of comic timing in delivering his lines and his physical limberness steal the show.  Also remarkable for her energetic versatility is Angela Lin, who appears as the "stage" Lauren plus nearly a dozen other roles.  Her high-camp portrayal of a cheongsam-decked shopkeeper in Chinatown in part two – with some kind of weird singsong Asian accent (it sounds cross between Vietnamese and Malay-Chinese) — is hilarious. Unfortunately, Park, playing the lead Lauren, seems curiously downbeat.  It could be that is because her character is the "straight man" to everyone else's shenanigans.  She's also generally disapproving of what's going on around her, like the whole concept of family associations whose membership were reserved for men, for example, and of her father's overenthusiastic support for Leland Yee.   
"King" is a play you really want to like, because it works so hard at being likable – but like the class clown, it keeps devolving into farce, nearly slapstick, to give the audience a quick laugh and to keep things moving.  This nervous tic also keeps derailing the play, as scenes are constantly played for laughs, and the near-serious section at the end, a conversation between Lauren and her father, feels like an anomaly.   In the end "King" feels like a work-in-progress, and some serious-minded tweaking could make this a fully realized piece of theater.
---
---
"King of the Yees" (through August 6)
Kirk Douglas Theatre
9820 Washington Blvd, Culver City, CA 90232
https://www.centertheatregroup.org/tickets/
TEL (213) 628-2772