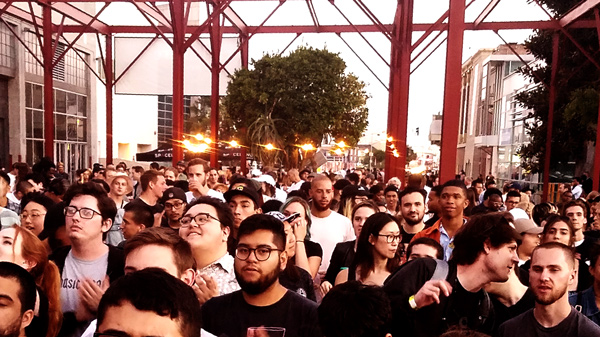 Jazz in the Summertime Feels so Correct
MOCA Music Series
What I was expecting: an elaborate installation that would marry musical acts with the Geffen's front area in an interesting and artistic way. What I got: a free summer concert with food trucks, cash bar and admission to the Carl Andre exhibit (fuck that guy, IMHO). MOCA Music is a free concert series that's programmed by Spaceland, and to kick it off, they booked Teebs, Milo, Josef Leimberg, and DJ Nobody.
I'm not against free summer concerts; I'm just more of a disco dolly. So when I hear of an art institution like MOCA partnering with a music venue like Spaceland, as a culture-loving progressive consumer, I'm expecting… more. More pizzaz, more engagement, more wow-factor. After all, we are mixing art and music, so where are the visuals? Might as well be in Spaceland's parking lot!
I feel like an opportunity to really do something unique is being wasted. Lots of people were enjoying themselves and having a great time—obvious Tinder and Bumble dates, hip kids of all ages, and local fans of the acts that Spaceland booked. Milo got his somewhat stoner-ish fandom really into the groove. And I did enjoy Josef Leimberg's set—there's something about live jazz in the summertime that just feels so correct. The event is a great choice for hanging out with friends, lovers, and/or the co-workers you actually like being around after leaving the office.
Two more of these events are planned this summer on June 29th and July 20th. Visit the MOCA Music event site to RSVP (free!), with MOCA members receiving priority entrance. I'm not giving this two thumbs down, you should definitely go if eating grilled cheese and ice cream sandwiches while checking out KCRW-approved musicians is your thing. You might even run into a great old friend you've lost touch with, like I did, and end the evening with the warm and fuzzies.
Photos by Alexia Lewis