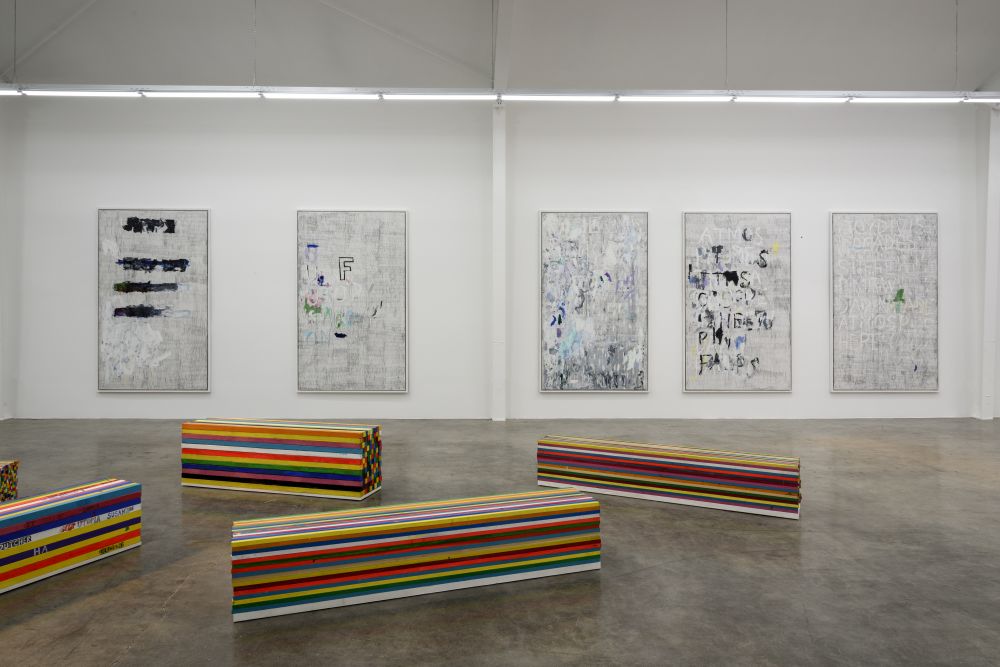 Jason Vass: Mark Dutcher
With his new solo show, "Time Machine" at Jason Vass, Mark Dutcher seeks to convey through his paintings various subjective and illusory experiences, starting with a moment of supreme clarity he felt as he stood before the Susan Rothenberg painting Blue Bars at LACMA in 1983. One work in particular bears a resemblance to that signal Rothenberg; the series as a whole suggests Dutcher's engagement with a range of painters—notably Jasper Johns and Joan Mitchell.
Painted predominantly in whites with some blacks, purples and a few blues, greens, aquas and pinks, with portions of graphite-marked raw canvas peaking through, the paintings read within a white to gray spectrum. The brushwork carries hints of Mitchell's textural accumulations with a bit more restraint—both in scale and intensity. Dutcher's paintings feel built up over time rather than mercurially drawn, the craggy surfaces scumbled and knotted with lumps and edges, and then thinned to spread into capillary-rich rivulets and drip-like runs.
The show also includes a painting from his Hart Crane series, a group of benches for viewing painting, made of 1 x 1 and 2 x 2 lengths of wood individually painted in various colors and affixed together in a kind of painterly bench-like minimalist object and a series of small collage-and-ink drawings.
Seeking to index memories and events through a system of encoding, Dutcher has scribed each Time Machine painting with words that carry personal significance for the artist. Yet the words are only partially legible. In some instances, the reader may infer what has been obscured by the accretion of pigment; in others, the text becomes entirely lost.
No matter that experience is ephemeral; Dutcher seeks to evoke or perhaps recapture for himself the elusive lightness that accompanies a singular moment. In this, "Time Machine" carries the weight of desire and serves as a metaphor for the scrim of time.
Mark Dutcher, "Time Machine," January 30 – March 12, 2016 at Jason Vass, 1452 E. Sixth Street, Los Angeles, CA 90021, http://jasonvass.com/.