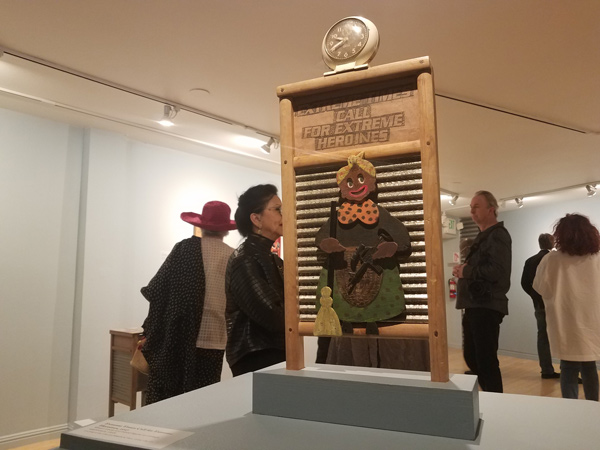 Honoring our Legends Now
Keeping It Clean: Betye Saar @ CAFAM
My art-sister-in-arms and I headed out to Craft and Folk Art Museum Saturday evening to take in their survey show of Betye Saar's washboard assemblages. Spanning the course of 20 years, from 1997 to present, this specific exhibition references the domestic, spiritual and emotional work that black women have taken on—sometimes by force, sometimes by choice—since the dawn of  "America."
The opening was well-attended. Actress (and fantasy fairy godmother) C.C.H. Pounder was in the house, exuding warmth and positivity. As is usual at a CAFAM event, people's outfits were wonderfully whimsical and colorful. And because the crowd is nonjudgmental, I didn't feel out of place in my stereotypical all-black.
Saar had hit legend status by the time I first learned about her in art school in the early 2000s, so it was a real pleasure to see her recent work, up-close and personal. Her washboardsare like 3D collages, and while viewing so many, spanning so much time, in such an intimate space, I realized that they don't really show significant evolution in style and formality. I can't get upset at that, as I feel that this is an indictment against the unchanging racial strife and white supremacy of America. Think of the thousands of American white terrorists who have become even more active and emboldened as Obama gave the reins over to Trump.
Every day that passes, as a black female artist, I find myself identifying with Saar's "Extreme Heroine." The bulk of the exhibition is pulled from several private collections, which made me curious about how they're stored or displayed when they're not on loan. My art-sister remarked to me how she overheard a few older white women speaking amongst each other about which pieces they owned, and it rubbed her the absolute wrong way. I want to write and defend an entire thesis about it right this second.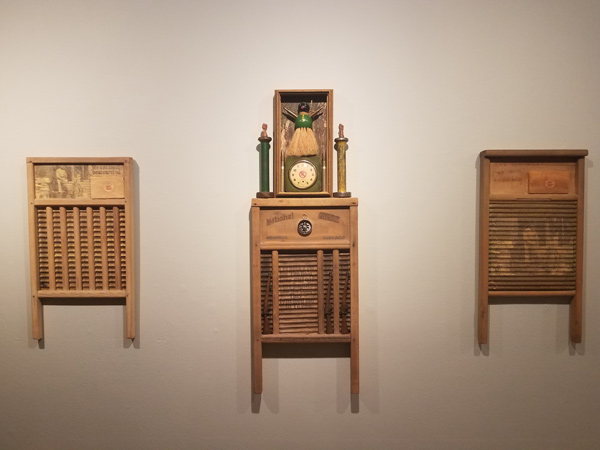 It's interesting to me to think about how different black artists discuss race, if they do. Kehinde Wiley celebrates black male humanity. Kara Walker uses history to provoke, to lift up the rock and force you to look at the maggots and worms underneath. Saar turns stereotypes on their head and uses found objects to take a stand and defy. Her works over the years have consistently conveyed a sense of duty and no-nonsense. The washboard as a domestic tool is a part of greater Americana, and Saar's use of it juxtaposed with militant Aunt Jemimas insists that hundreds of years of black-woman labor is not forgotten.
We should take advantage of any chance that we get to honor our legends while they're still with us in the flesh, and my art-sister and I agreed that CAFAM did an excellent job of doing so.
All photos © Alexia Lewis, 2017