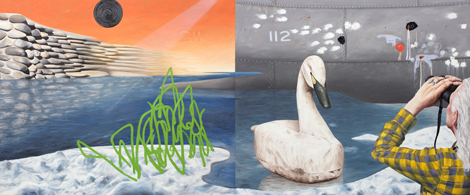 GUEST LECTURE
Lisa Adams
With my eyes acting as an open lens, I turn my gaze out onto the world in all its permutations and my mind begins to organize images and methods of articulation.

Borderland is an epic painting that concludes almost a year-and-a-half's work. The images evolve from fragments of visions I accumulate from the natural and human-built worlds. This piece began with a stone wall sitting at the edge of a body of water, perhaps in the Arctic region. On the border of this fictional place, a black sun sets over the remains of a paint-splattered battleship and a swan decoy, as an elderly man looks through binoculars for anything redeeming.  Meanwhile we are led to believe that a helicopter with "night sun" scans for something not yet known. The only organic thing—apart from a human—is an abstraction of tall grass; perhaps it's reminiscent of a bad memory of what the natural world used to look like.

My process allows for one element to beget the next until a narrative forms itself. I enter into this unknown place, open to a vision unfurling in front of me, slowly, one step at a time. Then I set to work to navigate, research and articulate whatever the painting demands.

Though my vision would appear to be "post-" something, it actually functions within the context of the "hopelessly hopeful," a standing criticism of Fryderyk Chopin's work.
Lisa Adams is represented by CB1 Gallery in Los Angeles. For more info: cb1gallery.com