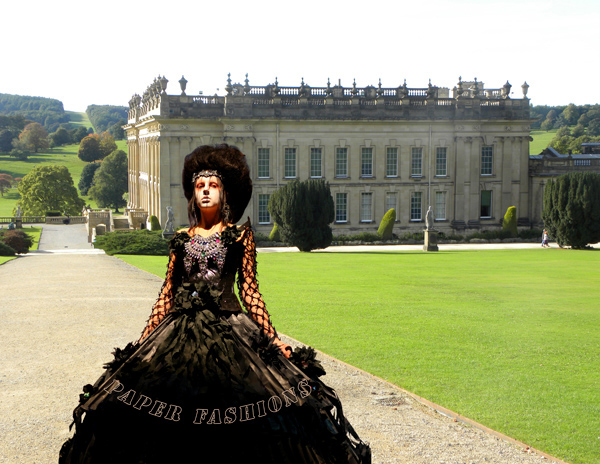 GUEST LECTURE
Patssi Valdez
"Before I went to the U.K. I had already decided to make a dress called Queen to honor the journey."

In the wake of LACMA's highly successful retrospective (2011) "Asco: Elite of the Obscure, A Retrospective, 1972–1987," Asco founding member Patssi Valdez was invited by Nottingham Contemporary in England to make paper fashions for their version of the exhibition, "ASCO: No Movies." An event, Paper Fashions: An Evening with Patssi Valdez, culminated in a runway fashion show presented in an installation created by Valdez. Three of the dresses are pictured here.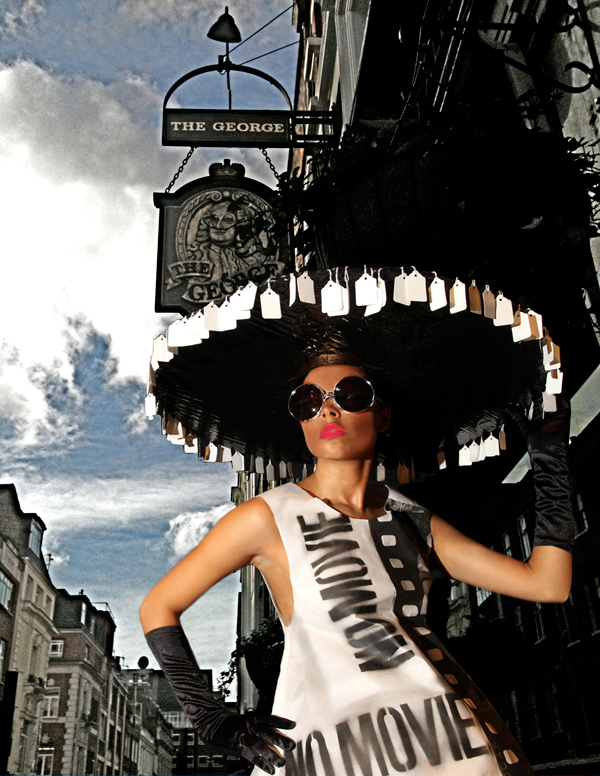 Valdez crafts a skirt of pleated black butcher paper with a corset of cardboard and black duct tape. Sleeves are formed from discarded and knotted elastic. The model's hair is ratted into an oversized regal pouf and encircled with a headband of recycled costume jewelry. To complete the fantasy, Valdez collages the image of the model wearing Queen onto the vast lawn of a stately home in the English countryside.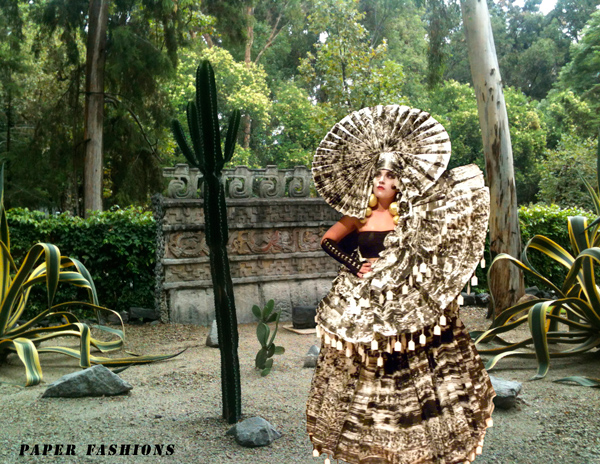 An Aztec goddess appears to pose in the garden of the Museo Nacional de Antropología in Mexico City adorned in a costume made from Sumi ink on butcher paper. Hanging price tags form a decorative border, while dangling oversized earrings are fashioned from styrofoam balls covered in metallic paper. Hair and makeup reflect Valdez' own iconic look.

A third model appears as a glamorous movie star, a woman of color, superimposed onto a trendy London street scene. A "No Movie" logo is stenciled with spray paint onto butcher paper printed with a film motif and styled into a chic costume. A very large cardboard-and–duct tape hat—fit for Ascot—is embellished with a fringe of swinging price tags. Dramatic makeup, black gloves and drugstore sunglasses complete the look. 
—Jane Chafin