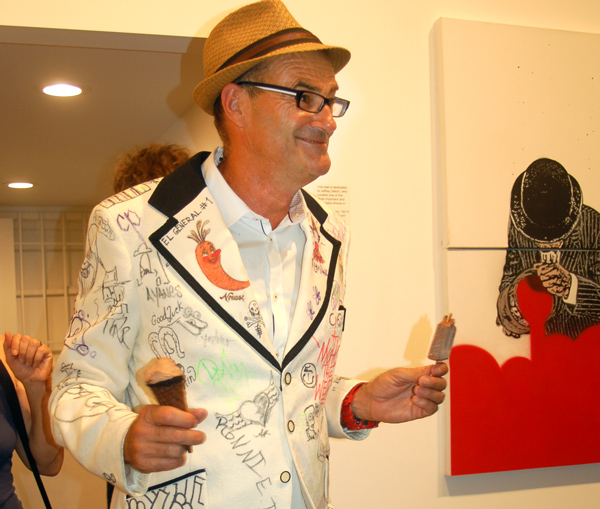 Greg Escalante 1955–2017
Lowbrow Art Enthusiast, Collector, Founder of Juxtapoz; Loved it All
Greg Escalante was a Southern California art collector and dealer who was a co-founder of Juxtapoz magazine as well as the driving force behind the Copro Gallery at Bergamot Station in Santa Monica. He recently opened his new space, Gregorio Escalante Gallery, in Chinatown. Escalante passed away on September 7th of this year.
Discovering art is kinda like having an old-school religious epiphany: a lot of life's mysteries suddenly seem solved. It wasn't until surfer and SoCal native Greg Escalante was in his late 30s that he had his personal "art epiphany" and began collecting paintings and drawings by artists doing a type of art that would later be known as Lowbrow. Although he had a successful career at an Orange County bond trading firm, Escalante never tried to negotiate lower prices for the art he was buying, either from a gallery, like John Pochna's 01 Gallery (Zero One), or straight out of an artist's studio. This was unusual, and it proved his aim was to not only build a unique and personal art collection, but also support artists and galleries at the same time. This benevolent attitude was to become Escalante's passport to the world of alternative art, and soon he was attending events like the annual Rat Fink Reunion, which took place in such classic Southern California locations as a pin-striping studio on Fender Way in Fullerton and the Moon Equipment speed shop in Santa Fe Springs. Other than the custom cars at these events, the artists Ed "Big Daddy" Roth and Robert "Bondo Bob" Williams were the main attractions, and at the end of each reunion there would be an auction of art that had been painted in front of the attendees. Escalante was that most favored of all art collectors; his eyes were bigger than his walls, and he would buy so many pinstriped garbage cans and toilet seats that before long pretty much all of his friends had one or both in their houses. About halfway through one sweltering reunion, when the smell of spilled gas and the thudding sounds of some under-rehearsed Rockabilly band were stifling, Escalante was asked by one artist what he thought about the whole thing, and he replied, "You ever been to a bond salesman's convention?" which put the kibosh on the idea he wasn't having the time of his life.
Escalante eventually wised up and joined the Board of Directors at the Laguna Beach Art Museum, which was at that time a respectable institution concentrating on Southern California coastal plein-air painting. Aided by the curator Bolton Colburn, Escalante turned that around and in 1993 the museum hosted the seminal hot rod art and culture exhibition Kustom Kulture. The show was significant for a number of reasons but most importantly, Escalante was instrumental in getting Last Gasp to publish a catalog for the show. With a museum exhibition and catalog, this loose aggregate of disenfranchised souls finally became something solid for art critics and writers to sink their teeth into, and rave reviews of the show were written by The New York Times and countless youth culture magazines. As it turned out, Kustom Kulture was a magnet for all sorts of other "anti-cultures" and the movement was soon about more than just hot rods; it was about every underground subculture that mainstream media ignored. This was not lost on the publishers of the skate 'zine Thrasher, and in 1994 Escalante helped convince High Speed Productions to release the first issue of Juxtapoz, a mobile manifesto for a new art movement.
But a new name was necessary for this amalgam, and Escalante was more than happy to sponsor a meeting at the Key Club in LA to try and hammer one out. So, similar to a papal conclave, a riotous crew of artists and gallerists met behind locked doors where they drank gallons of liquor and smoked copious amounts of weed, only to fail, unsurprisingly, to come up with one. Praise The Lowered, with Robert Williams' blessing coming through on the land line, the name Lowbrow art was settled upon and those left standing were finally allowed to return home.
Escalante began to curate shows at offbeat locations like the Bahooka tiki bar in Rosemead and also at Merry Karnowsky's fledgling gallery on La Brea and the Julie Rico Gallery in Santa Monica. He even arranged shows in private collector's houses, like the Spence's in South Pasadena, where the exhibiting artists were invited to enter the swimming pool via a water slide from a second story window. So, it was only a matter of time until Escalante decided to open a gallery, and after adopting the moniker Joe Copro (lifted from a Williams painting of a septic tank cleaning company) he teamed up with the Polynesian Art enthusiast Doug Nason to form the Copro Nason Gallery. The shows there ran the Lowbrow gamut from pin striping on automotive sheet metal to black velvet paintings from Oceania, and a similar variety of eye candy could be found out back, where Von Dutch's Kenford truck was parked among tikis and exotic orchids. Escalante was savvy with the media by now, and at least one gallery artist seriously under the influence was dragged from the shadows out back and forced into the bright lights to be interviewed. But there was more than partying going on; Copro Nason had become a meeting place where artists of all genres hung out together and people from the more uptight Westside galleries began coming around to taste the flavor. Escalante and Nason presided over this with paternal interest but it became obvious that it was time to move the gallery to a more prestigious location: Santa Monica's Bergamot Station.
The opening night of the new Copro Nason Gallery proved that Escalante had moved up in the art world; Lowbrow art was approved; lowbrow behavior was not. No one was beer bonging or pissing in the parking lot like in the old days at Pochna's 01 Gallery. The gallery was made up of three separate exhibition areas so Escalante could devote the largest to an established artist and the smaller spaces to up-and-comers or even complete unknowns. Nason eventually left the gallery and the new Copro Gallery came under the stewardship of veteran collector Gary Pressman, who continued Escalante's inclusive approach to curating: show 'em all and let God sort 'em out. Exhibition opening receptions took on a larger scale, and some bordered on being festivals, with cater trucks, bands, and performers crowding the outdoor area.
But Los Angeles has always been fickle about its galleries and after a good portion of Bergamot Station was demolished for a light rail stop, Escalante decided to open another gallery in the now-happening Chinatown district. Always the joker, he christened the new space the Gregorio Escalante Gallery and it opened with a show of highlights from his own collection. Along with his loyal friends, artists and collectors, a different audience began crowding the Chinatown gallery, eager to buy art and catch a glimpse of whatever celebrity was there that night. Although Escalante himself had become a celebrity of sorts, he maintained his basic nature and was absolutely stoked just to introduce two artists who had something in common. For although he needed collectors to buy art, Escalante's loyalty and true joy was with the artists, the ones who really made it happen; he knew there was nothing going on without the artists. And if Greg Escalante can be said to have had any fault, which isn't really a fault at all, it's that he loved all art, good and bad, and how can that be wrong?