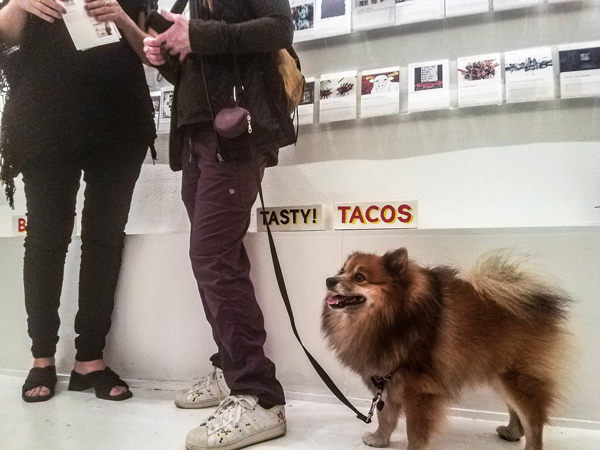 We got Rock & Roll, but No Tater Tots
Chinatown galleries; Wallspace
Chinatown really had it going on this weekend. Saturday saw the inaugural opening of Tieken LA; gorgeous and cinematic paintings that put us on notice about our disappearing natural landscapes at Charlie James; a pleasant and almost creepy installation at The Good Luck Gallery; rock & roll photography by Kirk Dominguez and Jennifer Precious Finch on view at Red Pipe; and a gorgeous treasure trove of photography by local punk artist Gerardo Velasquez (RIP) at Coagula Curatorial.
My emphasis in art school was photography, and I may be one of the last generation to have received a 97% analog education. (I just look this young; remember, "Good black don't crack.") Seeing this kind of photography, presented this way—I didn't feel nostalgic as much as happy and appreciative that I could understand the show beyond its visual cool factor.
At Tieken LA, I got a full view of what happens when you're an artist; it's your gallery, you can do/say whatever the hell you want. Behold, Fred Tieken's newsest installation, "Killer Bees Attack Mar-A-Lago"
See video:
From your lips to God's ears, kind sir. Before heading across town, I made sure to drop in on The Good Luck Gallery to say Hi to Paige Wery, the gallery founder.
Fun fact: it was her IG stories debut. My delight in opening my slightly older colleagues to how social media can work is compounded by the fact that I'm only just now figuring it out, this year, and I just turned 35.
After a an LA Metro-facilitated fantastic voyage across town, I finally made it to Wallspace on La Brea—a commercial gallery that I had never been to before.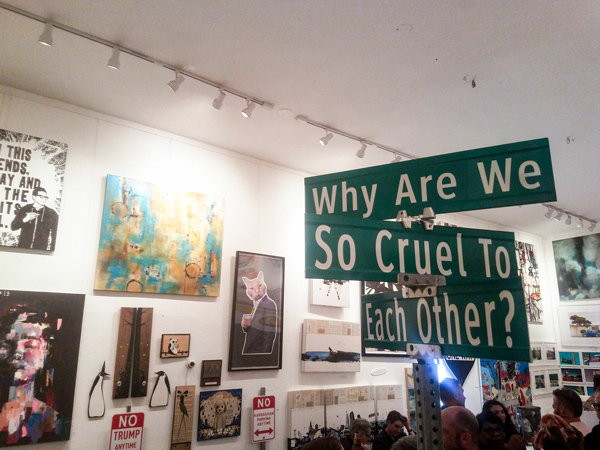 I had the opportunity to rub elbows with Valda Lake, founder and director of Wallspace. I don't know about you, but the business of art is really fascinating to me, and we had a chance to briefly discuss the benefits of partnering with online platforms. Them's the times we're living in. I talked even more shop with a friendly pair—an art scene newbie and an LA art scene veteran.
They were about to head to another opening in a loft. SO much was going down in the city of LA Saturday night, apparently. Mr. Francois, the vet, gave me a brief primer of how sparse the gallery presence used to be in Los Angeles, even as this city was the hotspot for the avant-garde and the conceptual, beginning in the '60s.
By that time, the party was almost over and my stomach was yelling at me so I went next door to Bludso's for some tater tots—turns out they don't even make them! The outrage! But, they're still Bludso's, which, if you don't know, then go find out. I'd recommend a Wallspace + Bludso's twofer anytime.
*This Last Night column is a follow up companion piece to Artillery's Instagram Story Artillery Tonight. Make sure you're following @artillery_mag on Instagram so you don't miss the next one.
All photos by Alexia Lewis