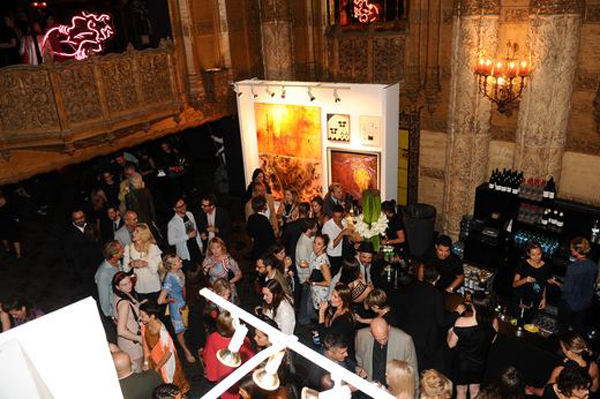 Giving is Sexy
Second Sexy Beast Fundraiser Auction for Planned Parenthood this Saturday
Get your Sexy Beast on, and don't forget to bring your checkbook. The fundraiser art auction for Planned Parenthood Los Angeles is happening again, and again at the fabulous Ace Hotel Theatre in downtown Los Angeles. I understand there are still some tickets left.
As this is a fundraiser, entrance to the auction will cost around $500… but it's for a great cause. And with that comes a pre-show wine reception with passed appetizers, following with an evening of performances by WIFE and Mutant Salon, with music by DJ Rashida, hosted by comedian Andy Richter—the sidekick on Conan.
This second Sexy Beast Fundraiser Art Auction is once again hosted by Night Gallery's Mieke Marple & Davida Nemeroff who are the original co-chairs and co-founders of Sexy Beast for Planned Parenthood LA; Eliah Perona is the program director and co-chair. All three women worked together on the first benefit auction in 2014 which raised half a million dollars. That's some serious dough and with all joined forces they are hoping for much more this time around.
There are 42 lots, each featuring a tasteful selected roster of artists—not just any artist by any means. Blue-chip art is here by the likes of Ed Ruscha, Robert Mapplethorpe, Larry Bell, Barbara Kruger and right-now high-end artists such as Sterling Ruby and Marilyn Minter can be purchased as well—there's actually an affordable Jasper Johns lithograph. Some of the artists have created new works specifically for the auction: Rirkrit Tiravanija, Mira Dancy, Marcel Dzama, Sam Moyer and Claire Tabouret will be showing never-before seen work. The lowest starting bid is $1,250 and highest is $40K for a Mapplethorpe.
Art auctions for benefits are actually a prudent way to buy art—not to mention it's a tax write-off and for a great cause. Participant Barbara Kruger says, "I wanted to be involved because sexuality, race and gender can determine what you have and what you don't, how long you live or how soon you die, whether you speak or whether you're silenced, whether you're allowed to laugh or can only fear, whether you use power or power uses you."
So if you're just starting out as a collector, this is a good way to get your toes wet. Come on all you high rollers—show some class with some quality art to bid on. Mingle with Los Angeles tastemakers. Sexy is all about giving… and to a now more than ever worthy cause.
Saturday, Sept 10,  from 6:30 PM to 10:30 PM (PDT)
Reception, Performance, Award Honoree, Art Auction.
The Theatre at Ace Hotel, Downtown Los Angeles
Link to see work & bid:
https://paddle8.com/auction/planned-parenthood-la/
For more info: 
http://www.sexybeastforplannedparenthood.com/
There are some tickets still available:
https://www.eventbrite.com/e/sexy-beast-2016-a-benefit-for-planned-parenthood-los-angeles-tickets-25212927545