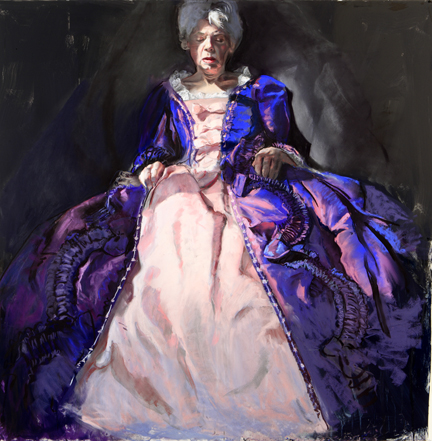 Gaela Erwin
Lexington Art League / Lexington, Kentucky
Felicitously hung in the former drawing room of a 19th-century castellated Gothic Revival villa, Gaela Erwin's exhibition of pastels reveals first a mastery of light that both sculpts and dissolves form, patterned after the dramatic innovations of Caravaggio. But far more than laudable technique, the show also offers an unvarnished exploration of aging, together with a penetrating glimpse into familial relationships, particularly those of mother and daughter.
In My Mother My Sister Back to Back (2012), the two women sit, spines touching, in front of a wide, open window, their positions symbolizing underlying hostilities. Her face puffy and slack, with protruding lower lip, the mother on the right, a recent victim of Alzheimer's disease, hunches over slightly. The younger woman on the left sits up straighter, but her deeply shadowed face and lined brow betray melancholy. Suffusing the pair from behind, light falls on the mother's profile and on her daughter's back, contrasting their dark garments with the brighter abstracted greenery outside: human pain foiled by nature's sunny indifference.
Dressed in fur against the chill—both weather-related and emotional—Erwin and her mother stand side by side in Self-Portrait with My Mother and Lacey (2011). Staring dispassionately out at the viewer, they reveal no intimacy other than physical proximity. Even the lily that reaches from the mother's hand toward Erwin—a symbol of fertility and generation—remains merely a formal link between the two, rather than one of affection. Seemingly deeper is the artist's bond with her puppy, a diminutive hairless breed. Held under her left arm, Lacey reveals a knowing glance, suggesting that she is a veritable "daughter" to the artist. In Erwin's original conception, the skull of her father was faintly adumbrated upside down between the women. His shadowy presence, now painted over, throws into relief the primordial aspect of the mother-daughter relationship.
Other portraits underscore Erwin's virtuosic treatment of light. Splashed against the pink inner garment her mother wears in The Purple Dress (2013), light creates delicate shadows of blue at the same time that it transfuses her elaborate peignoir into a dazzling expanse of purple, indigo and rose. Countervailing this visual opulence, however, is the ambiguity of the figure herself. Is she sitting or lying? And eyes closed, is she dead or alive? Is she donning a ball gown or a shroud? In Winter Mother (2012), light from the left falls on the woman's age-marked face and white hair. And as if underscoring vanished beauty, her garment is unzipped, revealing an aging chest, its imperfections emphasized by the illumination. A raking diagonal of light cuts across the artist's Self-Portrait with Autumn Light (2012), sculpting her features and casting on her chest a triangular shadow of lavender—the color of mourning—and in the center another triangle, a geometrical figure associated since prehistory with the female.
Her intense scrutiny of Caravaggio's techniques allows Erwin to explore the issue of caring for aging parents when it is made more difficult by past emotional conflicts. But in depicting her mother's decline, Erwin also projects her own inevitable mortality, as well as that of everywoman. "My mother's face," she says, "is my own."