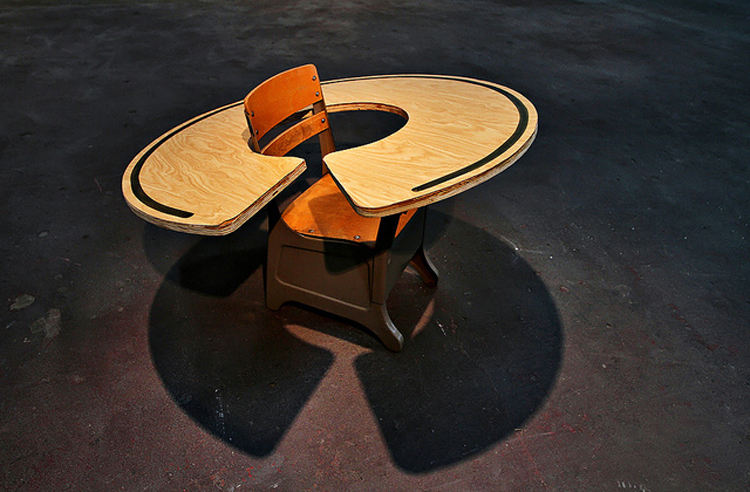 Fueled by Youth
Sergio Garcia's Sculptural Surrealism
The sculptures of Sergio Garcia contain an otherworldly essence. Like relics from an alternate dimension created by Salvador Dali, Henry Darger and Kaz Oshiro, Garcia's surreal concoctions teeter on the brink of absurdity and play with the experience of living and growing in contemporary society.

This second-generation Mexican-American Dallas-based artist discovered that he had a gift for graffiti, realism and mural painting in his youth, but it wasn't until a curatorial opportunity came up for him in Dallas that he began to see the multitude of possibilities at his fingertips. In 2009, after six or seven years of paid painting and mural opportunities, Garcia resurrected a new sense of purpose when he ventured into the realm of sculpture, making a child-sized tricycle, without utility, that invoked the rebellious energy of Marcel Duchamp.  His altered tricycles astounded people and received immediate attention from art collectors and galleries. His sculptural debut was at Kirk Hopper Fine Art in Dallas in 2009, under his own curation, but gallery owner Kirk Hopper inspired Garcia to explore his three-dimensional talents further.

After he was kicked out of his art-magnet high school, Garcia's education was limited; he relied heavily on his own research, his practice and the influence of his peers. Quick-witted and naturally creative but a poor student, he gave himself over to the one thing he felt best at above all else—art. Now, at 35, Garcia speaks at universities, high schools and even prisons, about techniques, processes and creativity. He still shows with Kirk Hopper, but his resume has expanded to include Thinkspace Gallery in Culver City, Shooting Gallery and White Walls Gallery in San Francisco, Frosh and Portmann in New York, and he has exhibited at many art fairs across the country.

Garcia's furniture-based sculptures are filled with irony and perception. With his twisted or knotted shiny vintage bikes or never-ending vintage school desks, Garcia visually comments on the experience of life, of growing, and of being a powerless child. His works have a unique attraction, their symbolism and representation seeming to summon up a deep resonance to life experiences.

Garcia cites his adolescence as a prime inspirational source. Having grown up on the outskirts of Dallas with non-English speaking parents and a fondness for skateboarding, tattoos and graffiti, Garcia makes his own history clear, in his clean and high-finish works. With its symbolism, whimsy and visually interesting references to different eras, cultures and lifestyles, his work disarms and elates viewers, yet it still remains under the high finish umbrella the art world holds so dear.

"Regardless of where life takes you or what you become, you're still the same person you were when you were younger, you just changed the top layer," Garcia says in an email correspondence. Many of his sculptures play with the idea of childhood, adolescence and irony. He uses a combination of methods and materials to create his fascinating world. His series of hands, arms and figurative works are made  with resin, ceramics, glass, metal, enamel and sometimes found objects. But his realistic painting skills bring his work to an entirely different level. Playing on trompe l'oeil, his figures pop out from that alternate dimension and hypnotically pull the viewer closer. Garcia says that people's reactions to his work are his favorite part of making art.  "I feel with my work I can connect and make people smile," he says. "People's responses fuel me."