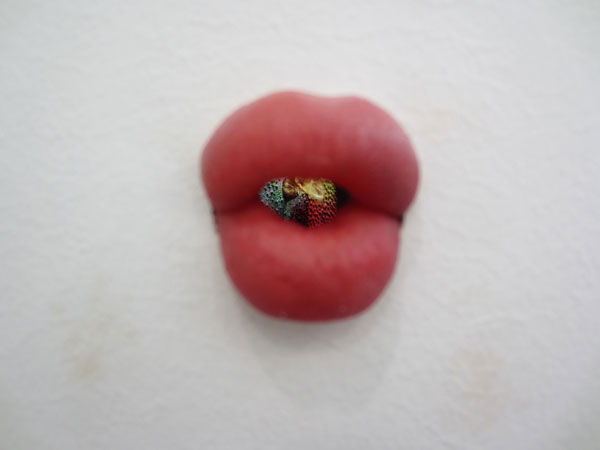 Frieze Fair Highlights 2016
Six Cold Hard Facts
With a high of only 50 degrees and a slow misting rain, this year's Frieze New York art fair on Randall's Island could have been renamed Freeze, but that didn't seem to stop the throngs of attendees on preview day. For this melting pot of a fair, half the galleries in the main section hail from outside the United States; I selected six works that stood out.
If there were any trends to report, I suppose there were a fair number of woven and fabric artworks. One of the best was Faig Ahmed's handmade woolen carpet Osho, 2015, at New Delhi-based Nature Morte's booth. Regimented ornate patterns on the top half of the carpet seem to liquefy as they form a puddle of color on the floor.
London's Maureen Paley gallery displayed a wall of General Idea's chenille on crest-shaped felt with machine embroidery. Titled The Armoury of the Miss General Idea Pavillion: Control Group, 1990, the social and political bent of the defunct collective seems apropos for 2016.
Mendes Wood DM from São Paulo showed a large mixed-media work on canvas and iron plate with resin objects by Paulo Nimer Pjota called Rammed earth façade part. I, gunpowder, 2015. This hybrid painting/sculpture's weathered surface had graffiti-esque details and painted graphic elements that necessitated a closer look.
Universal Electronic Vacuum, 1967, a set of 10 intricate screen prints on paper by Scottish pop art pioneer Eduardo Paolozzi at New York and Brussels's Clearing gallery, impressed me with their colorful geometric forms over iconic cartoon characters such as Mickey Mouse.
From New York, Fredericks & Freiser presented a solo booth by David Humphrey, whose painterly mélanges purposely confuse and amuse. Proud Sculptor, 2016, features a female figure in an orange body suit and motorcycle helmet, proudly posing in front of her distinctive creations.
To view Mika Rottenberg's single channel video installation Lips (Study #3), 2016 at New York's Andrea Rosen gallery, one peeked through the opening of a sculpture of pouty, red lips installed on a wall. Rottenberg's peculiar, yet enticing fantasy scenarios of spewing liquids and sweaty, naked buttocks stuck in crevices are hard to forget.
Frieze New York runs through May 8, for more info www.frieze.com/fairs/frieze-new-york