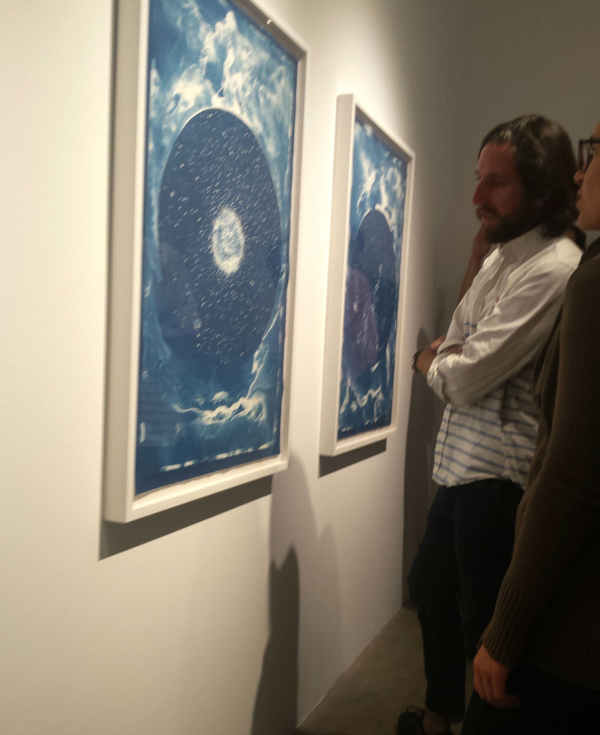 For Mature Audiences Only
Luis De Jesus and Thinkspace
Thinkspace was infested with BFAs and mosquitoes Saturday night. We waited in line for the bar behind a kid who would not stop bragging about how often Britney Spears comes into his coffee shop—the bartendress was rocking a "Britney Bitch" shirt. "Are you of age?" she demanded of the braggart. With a high-pitched giggle, he admitted he just turned 22. Aw honey. The front of the gallery remained open and sparsely populated throughout the night, while the backroom turned into a college dorm party, with fresh 21 year olds flexing their twiggy little biceps and competing for gallery representation.
I'm normally repelled by cute animal paintings; however, Jacub Gagnon's, "Short Stories" exhibition at Thinkspace managed to impress. His photo-realistic paintings juxtapose furry cuteness with still-life compositions (a porcupine sitting in a pot surrounded by cacti, Among Friends) or everyday objects (a polar bear with a flare strapped to its head, Polar Flare). It raised the question of, had these been photoshopped instead, would they still be fascinating? Then we saw the deer sleeping next to a candle with a hovering butterfly (Goodnight Deer): Time to go.
Around the corner at Luis De Jesus, it was so packed that it took us seven minutes of standing on tiptoe to see over the crowd in order to find the bar. This was a far more sophisticated party in terms of age; mid-career professional artists clinking cocktail glasses with a gang of tipsy elderly ladies. The maturity of the party was also reflected in the topics overheard: Lia Halloran's ethereal, mural-sized cyanotype prints dominated the conversation, contrasting Thinkspace's "Pick me! Pick me!" atmosphere. Afterwards, strolling down the cracked La Cienega sidewalk, we expressed our admiration of the senior guests at the reception, still rocking it like it's the 1970s. Life goals.