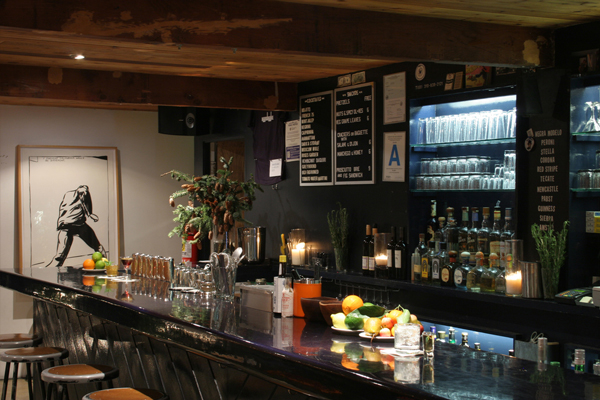 Food & Beverage
Best Bars and Bites During and After the Openings
BEST BARS NEAR ART VENUES
1.  The Mandrake
This laid-back artist-run bar is smack dab in the middle of gallery row in Culver City.

2. Molly Malone's
If you're spending the day at LACMA make sure to walk a block down Fairfax to this Irish pub.

3. The Resident
This no-frills Arts District spot has everything you need: a patio and cocktails.

4. Barkowski
Just a hop, skip and jump away from Santa Monica galleries, this Charles Bukowski-themed bar is not to be missed.

5. Villain's Tavern
Wash down bourgeois conversations with boozy shaved ice drinks at this classic Arts District watering hole.

6. Blind Barber
Enter this Culver City bar through what appears to be a closed barber shop. Keep going through the dark hallway until you reach dive-bar goodness with a full cocktail menu.

7. Next Door Lounge
Near the new gallery district in Hollywood lies this 1920s-style speakeasy. Their happy hour is from 5 to 8 and they make a great whiskey sour.

8. Melody Lounge
If you're stopping by Chinatown galleries, this beer and wine hideout is a perfect place to stop by. Sometimes they have bands or karaoke.
9. The Arsenal
Another Santa Monica/Mid-City spot—this weapons-themed bar is charming, has great bar food and craft cocktails.

10. The Edison
An obvious choice for museumgoers in Downtown LA; this sprawling bar has something for everyone (also, it may be haunted).
BEST MUNCHIES AT GALLERIES
1. Kanye Griffin Corcoron
This gallery serves tacos, beans, chips and beer, and the food is made right in front of you, making it the best art-snack deal in town.

2. Commonwealth & Council
Expect Korean fried chicken and other potluck favorites at this Artist-run
Koreatown gallery.

3. Hammer Museum
Cheesy bread sticks, (although sometimes we wish there was something more).

4. 356 Mission
If you catch a talk here, expect grapes, strawberries—and Mexican Coke!

5. Vincent Price Museum
They don't have booze but this museum pulls out all the stops with various spreads, crackers, veggies and punch.


6. The Hive
If beer is a snack then the Hive is your place. They surprisingly serve craft beer for free at their openings, so drink up!

7.  The Good Luck Gallery
This Chinatown gallery once served Chinese egg rolls with hot mustard and good quality wine. Maybe if we rally they will continue to step up their snack game.

8. Bergamot Station
The galleries in this arts complex tend to add flare like hummus and salsa to the quintessential cheese plates.

9. CB1
Greasy crisp potato chips and assorted nuts keep this gallery in the running.

10. Loft at Liz's
This gallery has huge spreads of hummus, olives, pita and veggies served with wine.