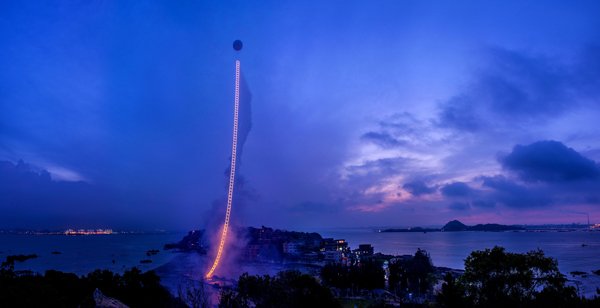 FILM: Sky Ladder
The Art of Cai Guo-Qiang
It is now official: awe is an essential human emotion. Yes, awe—a sense of wonder at something that is greater or beyond any single individual. "Early in human history, awe was reserved for feelings toward divine beings," writes Dacher Keltner, professor of psychology at UC Berkeley, who has been studying the subject, "like the spirits that Greek families believed were guarding over their fates." This explains, at least partly, our fascination with the work of Chinese artist Cai Guo-Qing, whose firework displays are astonishingly choreographed and spectacular works of art.

The new documentary Sky Ladder: The Art of Cai Guo-Qiang, just released theatrically and on Netflix, manages to convey the awesomeness of Cai's performances—orchestrated bursts of flames and patterned plumes of colored smoke. But director Kevin Macdonald is a humanist, and deftly interweaves the pathos of Cai's personal life into the pageantry of his work. Usually Cai presents a stoic front, but here we see him being vulnerable and human—tearing up as he recalls his father's legacy, visiting his elderly grandmother, gently trying to comfort his wife when she becomes overwrought. Even though he is a man of few words, we see that he cares about his family, the environment, and he thinks about our mortality.
 
How did Cai agree to such a reveal? "I had a studio assistant who was studying film," says Cai during a phone interview. She pointed out that his personal life, his relationship with his family, was not well known. "She suggested making a documentary, and she contacted Wendi Deng [Murdoch]." Deng became a producer, and it was she who suggested Macdonald.
The doc quickly traces Cai's early biography—born in Quanzhou in 1957, he was the son of a man who did traditional calligraphy and painting. Cai shows us matchboxes on which his father had painted landscapes—it was a time of scarcity in which everything was re-used. They survived the chaos of the Cultural Revolution, and then Cai attended the Shanghai Theater Academy where he studied stage design, which explains a lot about his deft use of 3D space and public spectacle. During a sojourn in Japan, he began using gunpowder to make artwork.

Since the late 1990s, Cai has had a series of high-profile shows. He orchestrated a major installation at the Venice Biennale in 1999; he had solos at Massachusetts Museum of Contemporary Art in 2004 and at the Guggenheim Museum in 2008, the same year he worked on the Beijing Olympics. Cai was the artistic mastermind behind the fireworks for the Olympics opening ceremony, where bursts of "footprints" walked through the sky towards the Bird's Nest stadium. (Yes, later it was acknowledged that certain segments had been pre-recorded.) Here in SoCal he had a show at MOCA LA in 2012, featuring his very large gunpowder paintings—"Chaos in Nature," depicting the turbulent forces of nature, was made with the help of volunteers in the Geffen building. The culminating explosion that produced the work, with workers standing by to douse the flames and expectant spectators seated on bleachers, is shown in this doc.

For two decades he has been obsessed with realizing one project, "Sky Ladder." His inspiration partly came from seeing the bas-relief on the west front of Bath Abbey—several angels are climbing a ladder up to heaven, a reference to Jacob's dream in the Bible. The ladder is tall, the angels are small, and we are impressed with the height they must ascend. Here, I wish the doc had Cai say more about this specific image and what it means to him, but we are quickly whisked into the several failed attempts he made. He does suggest the work has something to do with a dialogue between the past and the present, the here and the beyond. We also meet his family, and one is especially impressed by his wife Hong Hong, who supports his impossible project while articulating the frustrations involved.

Eventually, Cai decided the ladder would be 500 meters tall, held aloft by an air balloon while fireworks exploded on the rungs up to the sky. Last year he finally completed the project, by funding it himself and doing it in a small harbor near his hometown, which was strangely fitting. Because it wasn't officially permitted, they kept it secret, except for those who worked on the project and the immediate neighbors. "We didn't open it to media, but people were taking cellphone videos of it, and on Facebook we had 30 million hits in two days," says Cai. The elation on the faces of Cai, Hong Hong and those who witnessed the event in person attests to its success.

Early on in the film, Tatsumi Masatoshi, the technical director for Cai Studio, observes, "When there are a lot of troubles or difficulties, he actually enjoys it." When I remind Cai of that quote, he laughs, and says, "I don't like to fail, that would make me feel bad—but if something were too easy, I'd wonder if it were really worthwhile. Things that are worthwhile are often difficult."