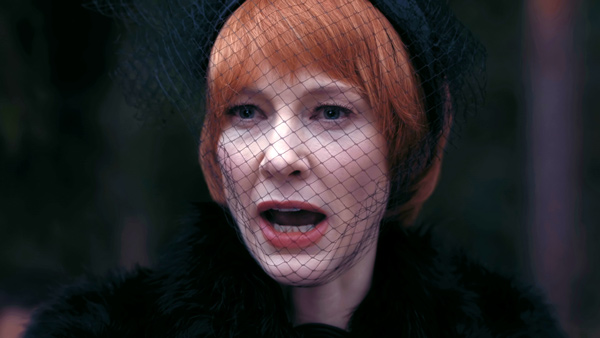 FILM: Manifesto
A film by Julian Rosefeldt
The film Manifesto speaks in the voice of the 20th century, when manifestos meant something—a time when the latest artist or art movement stormed the Bastille of conformity, declaring the one true doctrine—theirs, naturally—and the rest of us sat up and paid attention. Well, nix that. Nowadays we are a far more jaded audience, and it's hard to know whether to take the statements in Manifesto seriously, or to file them away with the rest of the loony rants we've heard from people who claim they will fix things with ideology. In Manifesto, which just opened in limited theatrical release, German artist and filmmaker Julian Rosefeldt presents excerpts from some 60 authors in 13 dramatized scenes, all featuring the extraordinary Cate Blanchett. In some ways this film is a showcase for her chameleon talents as she assumes a cast of characters—among them, a homeless man, a middle-class homemaker, a trader on the trading floor, an imperious choreographer, a puppet master with her look-alike creation. Blanchett is a powerful and compelling actress, and her presence is a major reason to see this film.

The opening is an out-of-focus close-up of a burning fuse, then Blanchett's voice telling us, "I'm against action, I'm for continuous contradiction, for affirmation, too… I do not explain because I hate common sense. I'm writing a manifesto because I have nothing to say." Rosefeldt spent a couple years combing through art manifesto texts of the 20th century, a process which I would have found akin to sitting in the dentist's chair, but which he claims, in a phone interview from Berlin, "was very joyful."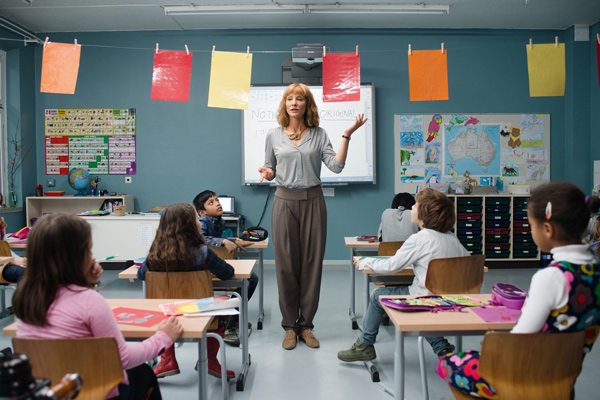 However, he decided not to identify these quotes during the film—a frustration to the audience and a disservice to the authors—so we don't know that the previous quote is from Tristan Tzara's "Dada Manifesto 1918." Okay, a Dadaist would say something like that. Later, accompanied by the sound of a ticking clock or metronome, comes a series of headshots of Blanchett as characters we will see, interspersed with names such as Karl Marx, André Breton, Vasily Kandinsky, Barnett Newman, Yvonne Rainer, John Cage, Adrian Piper, Jim Jarmusch and Werner Herzog. I believe Marx's quote is early in the film, and yes, you will find attributions, such as they are, in a quick roll-by at the very end of the credits.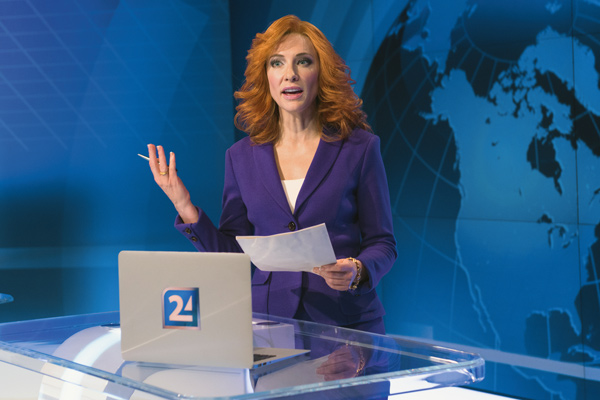 Fortunately, Manifesto is very beautifully shot, with many tracking or drone shots of the bleak architecture of modern Berlin and its environs, of people in eerily fascinating settings. It is also wonderfully imaginative in presenting its material, although some scenes are far better than others. Among the most inventive are a scene of Blanchett as a mother presiding over a midday meal with her middle-class family, and praying, "I am for an art that is political or radical, mystical, that does something other than sit on its ass in a museum," and another in which she gives a funeral sermon: "One dies as a hero or as an idiot, which is the same thing." A few portrayals are so hammy that they are nearly funny, such as Blanchett playing a drunken Goth girl flailing about in the aftermath of a rock party. The best scenes are more nuanced—such as Blanchett as a sleek CEO greeting supporters in a posh living room, and declaring "Long live the great art vortex!"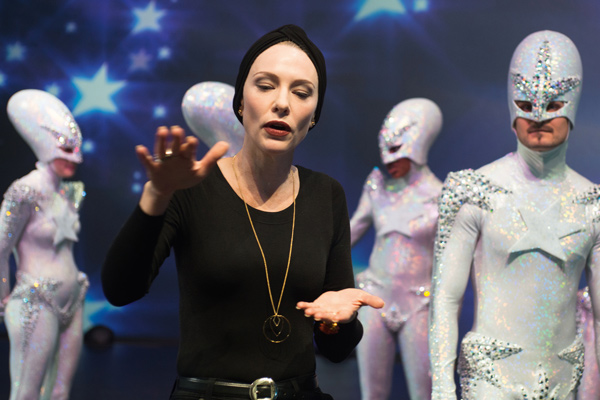 Rosefeldt says that the film was originally shown in segments, as part of a multi-channel art installation. If you read through the credits, you'll learn that each scene has a theme or themes—for example, the puppetmaster one is about Surrealism/Spatialism. That makes sense. However, the film has pulled apart the scenes so that they are sandwiched in between one another, which makes it more fun to watch visually but harder to understand intellectually.

"These guys had such great fun writing this stuff," says Rosefeldt. And yes, the quotes are mostly from guys, yet again mansplaining things to us. "They were, of course, provoking. That's what you do, you pretend to be very sure about it.  That's something art historians forget. There are 13 text collages, 60 authors, I kind of love them all. I agree and disagree with them."