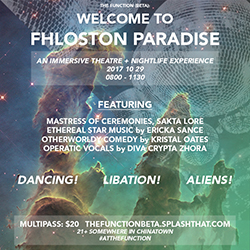 Sunday, October 29, 2017
8:00 pm - 11:30 pm
Chinatown, Los Angeles CA
THE YEAR IS 2197
Fhloston is just out of its fledgling phase as an outpost speakeasy ship in the Andromeda galaxy. It's a haven for humans and aliens alike; culture-loving celebrities, dignitaries, and regular fun-loving folk are stopping through to enjoy an escape. Fhloston is not yet the massive, opulent ship that it will be in Dallas and Leeloo's time, but the talent and clientele are making it into something truly special.
This Halloween, get your ticket to LA's newest, most unique show, where immersive theatre meets nightlife. You will dance, drink, hobnob with celebrity aliens, and enjoy live vocal and comedic performances, all while storylines unfold around you.
FEATURING:
Mastress of Ceremonies, Sakta Lore!
An Ethereal Musical Performance by Ericka Sancé!
Comedy by Kristal Oates!
Operatic Vocals by Diva Crypta Zhora!
So don your finest futuristic chic, be discreet and get your Multipass online – absolutely no cash or credit card sales will take place at the door. The secret Chinatown location will be revealed only to ticket holders upon purchase.
Be you Thermian, an immigrant from Planet Claire, or a Sweet Transvestite from Transsexual, Transylvania – all are welcome #atthefunction.