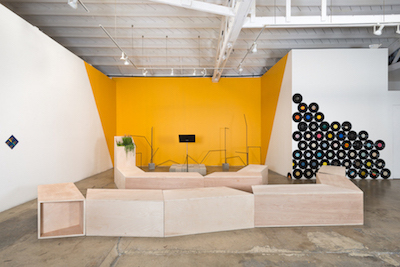 Saturday, November 4, 2017
1:00 pm - 4:00 pm
6023 Washington Blvd, Culver City CA 90232
Untested Address is an open-ended platform for in-progress work including poetry, unpredictable improv games, moon absorptions and short experimental work. The series of events has taken place at UMM's neighborhood and for this exhibition, UMM's copper-pipe, malleable patio platform has been transposed to the Klowden Mann along with a seating structure designed in collaboration with architect Ed Ogosta.
Jessica Ceballos Campbell is an indige/me/xicana-afro-euskaldunak poet and interdisciplinarian, a community advocate and activist. Her interests are centered on exploring the intersections of art and personal narrative, and how those are affected by and inform the spaces we occupy. Her written work has been published in various journals and anthologies, and she's published two chapbooks; Gent Re Place Ing: A Response (Writ Large Press, 2016) and End of the Road (2017). For Untested Address, she will be reading new material (as process) from her work in progress, Happiest Place on Earth.
Kristin Cerda is a Bay Area interdisciplinary artist working at the intersections of language, science, ritual and environment. Her written work has appeared in [out of nothing], Acentos Review, Lumen Magazine, and she is the creator of the hypertext project Half.Life/WretchedSymphony (wretchedsymphony.com). Her writing practice expands into food installations and poetic happenings. She has presented on poetics at SXSW-Interactive, AWP, the National Women's Studies Association, and she was a 2017 finalist for poet laureate for the City of Richmond, California. Kristin holds degrees in writing from CalArts and Naropa University, and she is a sixth-generation Texan. For Untested Address, she will be presenting experimental work involving sound.
Adriana Johnson was born in Brazil and dragged around through various countries until she ended up in the U.S. She is an Associate Professor of Comparative Literature at UC Irvine and has written one book about a famous nineteenth century civil war in the backlands of Brazil and is currently working on another one on contemporary film in Argentina, Paraguay and Brazil. Since having children she also became obsessed with issues of infrastructure, resources (water) and labor. She will be presenting an experimental on Brazilian writer Clarice Lispector's short story "Amor/Love".
Laura Vena is a writer, artist, curator and translator whose work has appeared in Bombay Gin, Super Arrow, Tarpaulin Sky, Antennae and elsewhere. She is Fiction Editor at Entropy Magazine, and winner of the 1913 Press First Book Award by John Keene for her manuscript, x/she: stardraped, which will be published in 2017. For Untested Address, she will be presenting experimental work.
Semi-Tropic Spiritualists is a project by Los Angeles-based artists Astri Swendsrud and Quinn Gomez-Heitzeberg, started in 2012. This ongoing series of performance works and objects explores the history of spiritual and occult belief in Los Angeles through the Semi-Tropic Spiritualists, an organization that created a campsite meeting place outside the city limits of Los Angeles in 1905. Spiritualism has described itself as a science, a philosophy and a religion. The Semi-Tropic Spiritualists are interested in this system as a model for exploring ideas of faith and skepticism, belief and charlatanism, as well as for the development of a space dedicated to investigation and the search for knowledge. They have exhibited their installations and performance works at Richard Telles Fine Art, Los Angeles; The Vincent Price Museum, Los Angeles; Shangri-La, Joshua Tree, CA; and Chime & Co., Los Angeles, among other locations. For Untested Address, they will perform "Test Site No. 2," a lecture-based performance with historical Spiritualist Lyceum recitations.