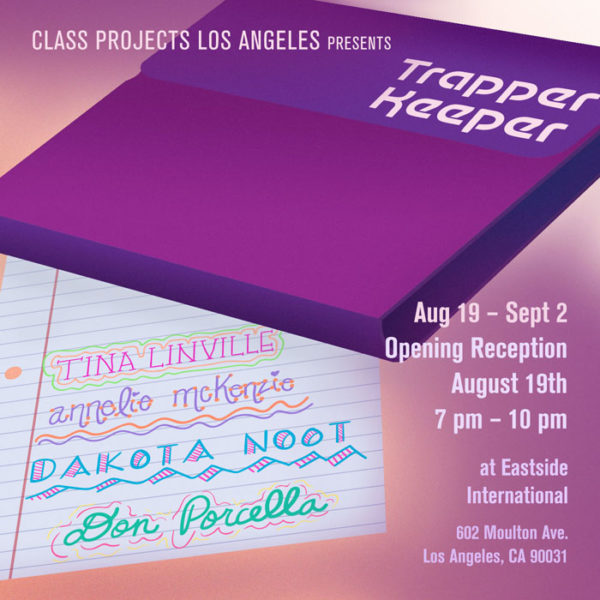 Saturday, August 19, 2017
7:00 pm - 10:00 pm
602 Moulton Ave, Los Angeles California 90031
Trapper Keeper is a group exhibition featuring work by Tina Linville, Annelie McKenzie, Dakota Noot, and Don Porcella, four artists whose works display fresh takes on contemporary figuration. While varied in their explorations, these artists share connection through their vibrant use of color, energy and humor; creating a fantastical world rich with hearts, stars, and a myriad of characters and creatures. Wielding kitsch like a glorious weapon, these artists elevate every day materials like pipe cleaners, glitter, rhinestones, stickers and beads to the realm of fine art. These pieces, unencumbered by any ties to pragmatic realism, allow humans, animals, aliens and hybrid forms to co-exist in a space, resulting in an environment that is at once florid, energetic, and joyously bizarre.
Tina Linville received her BFA in Sculpture from the University of Washington and her MFA in Fibers from California State University, Long Beach. Her sculptures, installations, and collaborative projects have been featured in exhibitions by the Los Angeles Municipal Art Gallery, the Sam and Alfreda Maloof Foundation and Craft in America, Torrance Art Museum, 18th Street Art Center, and Mains D'Oeuvres in Paris, France. She has earned several awards for her work, most recently the Distinguished Achievement in Creative Activity from CSULB in 2013. She lives and works in Long Beach, California
Annelie McKenzie makes paintings which explore the feminine in art practice and art history. Born in Montreal, Canada, she earned an MFA from California State University, Long Beach, in 2013, and a BFA from the University of Calgary in 1997. She has exhibited at Contemporary Calgary (AB), Torrance Art Museum (CA), Fourteen30 Contemporary (OR), VENUS LA (CA), and other spaces throughout the USA and Canada. McKenzie is represented by CB1 Gallery in Los Angeles where she currently resides.
Dakota Noot was born and raised in Bismarck, ND. His work uses symbols drawn from his rural background and explores hybridized identity. He received his BFA from the University of North Dakota and his MFA from Claremont Graduate University. His work has been exhibited in North Dakota and California, including the SoCal MFA show, Far Bazaar: Cerritos College, and PØST Kamikaze. He currently lives and works in Claremont, CA.
Born and raised in Modesto, California, Don Porcella's artwork has been exhibited at galleries and museums across the U.S. and in Berlin, Paris, and Copenhagen. Porcella's art has been reviewed in the New York Times, NY ARTS, Fiber Arts Magazine, Chelsea Now, San Francisco Magazine and the Village Voice to name a few. He has a BA in Psychology from the University of California at San Diego, a BFA from California College of Arts and Crafts and an MFA from Hunter College in New York. Porcella's work is included in public and private collections across the United States and Europe. He lives and works in Los Angeles and New York City.
Trapper Keeper is presented by Class Projects LA, a curatorial group made up of LA based artists Sam Kyser, Christina Mesiti, Chas Schroeder and Stacy Wendt, all 2015 graduates of Claremont Graduate University.