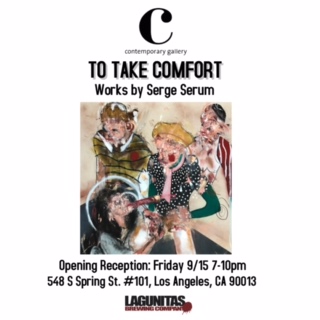 Friday, September 15, 2017
7:00 pm - 10:00 pm
548 S Spring St. #101, Los Angeles California 90013
Contemporary Gallery is pleased to present "To Take Comfort," a collection of paintings and photography by Los Angeles artist, Serge Serum.
"To Take Comfort" is a body of work representing how he seeks solace from his feelings of insecurity and uncertainty by creating art.
Enjoy Complimentary drinks from Lagunitas and music by Dj Secret Crush.
www.sergeserum.com @sergeserum
In Serum's paintings, he depicts a search for the human form and portraiture derived from abstraction. He invites the viewer to follow his process as he captures energy through chaotic brushstrokes, depicting his anxieties and exhilaration of his subconscious through visceral images on the canvas.
Serum's photography creates and captures scenes with other artists working within his scene. He has an ongoing photo series titled, "Polished," documenting drag, club kid and queer nightlife. His process includes playing dress up and creating tableaus with his subjects. Like his paintings, Serum's photos create a personal narrative to emotionally connect with viewers.