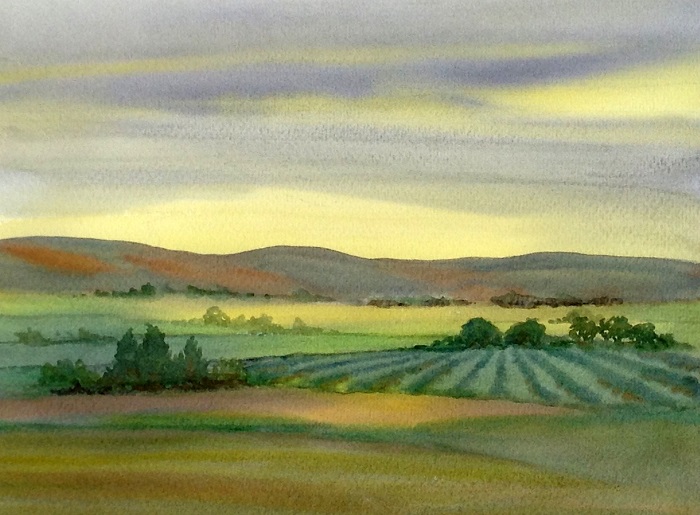 Saturday, November 4, 2017
9:30 am - 3:00 pm
1 Civic Center Cir, Brea CA 92871
SATURDAY, NOVEMBER 4, 2017 | 9:30 AM – 3:00 PM
The Sky is the Limit Watercolor Workshop with Debbie Abshear.
Ninety-nine percent of all landscape paintings have skies. Skies help set the mood for a painting. Have you ever been driving along, looked up into the sky and asked yourself, "How can I re-create that sky in a painting?" Spend a day learning to paint the skies you have always wanted in your watercolor paintings. Watch demonstrations and create skies using techniques that have been used by watercolor artists for centuries.
We will paint wispy skies and fluffy clouds, dark stormy skies, and learn how to paint fog to create an atmospheric scene. By the end of the day, you will have created small studies, along with your own notes that will help you re-create spectacular skies in your own painting. Each type of sky will be demonstrated and then you will paint it on your own. There will be plenty of time to paint because the best way to learn to paint is to put the brush to the paper!
Instructor: Debbie Abshear • Ages 16+ • Cost: $80 (+ supply list)
To find out more about Debbie, visit her website www.debbieabshear.com
To register visit breagallery.com or call the Gallery at (714) 990-7731.
For our refunds, cancellations, and photography policies, please visit our website.
City of Brea Art Gallery • Civic & Cultural Center • 1 Civic Center Circle • Brea, CA 92821 • (714) 990-7731
breagallery.com • breagallery@cityofbrea.net • Follow us on Facebook, Instagram, and Twitter @breagallery