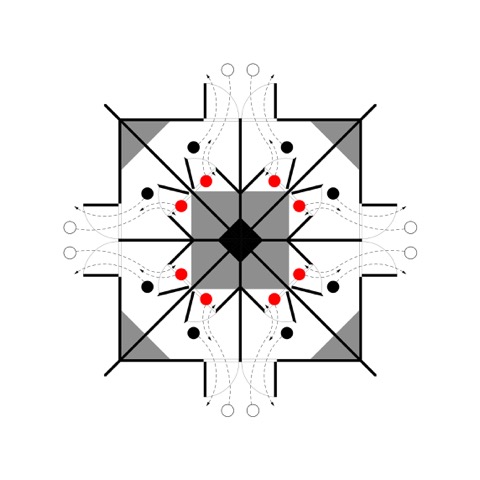 Thursday, July 20, 2017
8:00 pm
905 East Second Street, Los Angeles California 90012
The Ring
A new participatory work by Iván Navarro and Courtney Smith
Call for Participants:
40 volunteer collaborators needed to realize each performance
Thursday, July 20 at 8pm
Friday, July 21 at 8pm
Saturday, July 22 at 2pm
FREE
The Garey
905 East Second Street
Los Angeles, CA 90012
The Ring is the latest in a series of performed sculptural works by Iván Navarro and Courtney Smith. Since 2014, the two artists have collaborated to produce participatory performance-events in the form of guided interactions that occur within a constructed arena. The Ring is a formal design for a social ritual of cooperation and exchange, exploring cyclical systems of giving, receiving and reciprocating as well as providing, acquiring and distributing. Through the ceremonial alternation of roles and the transfer of symbolic objects, individual value is subsumed by the sum of collective action.
CALL FOR PARTICIPANTS
 
We invite you to be a guest-participant in The Ring. Each performance counts on the committed participation of at least 24 to 40 guests. Participants are asked only to interact naturally with each other and the group as a whole, while following a directed sequence of coordinated exchanges during short, timed intervals. The duration of the piece is 26 minutes, which includes three eight-minute segments and two one-minute interludes.
Registered participants must commit to their participation. By signing up you are entering a pact with the other guests and the artists; the work cannot take place without the collaboration of every single one of the registered participants.
PARTICIPATE (http://thering.bpt.me)
Additional audience will also be able to view the performance without participating. If you would like to view the performance as a spectator, please reserve tickets below.
On view post-performance will be the sculptural elements that remain from The Ring. A constructed arena of concentric squares, geometrically subdivided into a series of separate compartments that was previously occupied individually by the participants. Directly above the center point of the concentric squares hangs a fluorescent chandelier, as the only source of light within the ring.
ABOUT IVÁN NAVARRO AND COURTNEY SMITH: Iván Navarro's experiences growing up under the Chilean dictatorship fuel his examination of sound and electric energy as symbols and tools of power. In 2014, after years of isolated collaborations, Smith and Navarro formed a specific category of conjoint work in sculpture and performance, which Smith now pursues exclusively.
ABOUT EXCHANGE VALUE: Exchange Value is a multi-site group exhibition comprised of installations, performances, and interactive events that will activate and link various locations and communities throughout Downtown Los Angeles. The artists participating in Exchange Value are: Olga Koumoundouros, Iván Navarro and Courtney Smith, Alison O'Daniel, and Susan Silton.