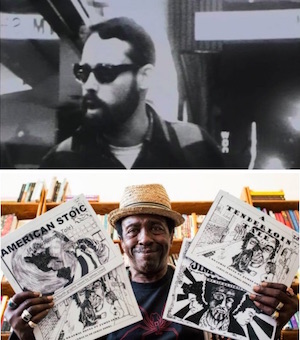 Tuesday, November 14, 2017
6:00 pm - 8:00 pm
398 Eddy Street, San Francisco CA 94102
Join San Francisco Urban Film Festival, in collaboration with the Tenderloin Museum, for The Imperfect Is Perfect: The Tenderloin, a special double feature of 'Drugs in the Tenderloin' and 'Tender Souls,' two documentary films that illustrate the struggles and joys of everyday life in the Tenderloin in two different time periods.
'Drugs in the Tenderloin' (1966) gives audiences a rare and raw glimpse into the lives of young queers and drug users via "a cinematic time capsule." (Peter Wong, BeyondChron) The guerilla-style documentary was rediscovered by the Tenderloin Museum and played a series of sold-out shows in 2015 and 2016. This rare film by Robert Zagone can only be viewed through the museum. The second film, 'Tender Souls,' by filmmaker Brenton Gieser, follows three Tenderloin residents in contemporary San Francisco.
Following this special double feature, we invite you to join us for a panel discussion with Katie Conry (Executive Director, Tenderloin Museum), Paul Trudeau (Director of City Hope San Francisco), and 'Drugs in the Tenderloin' Director Robert Zagone. The panel will be moderated by Ron Sunstrom (Professor and Chair of Philosophy and African American Studies, University of San Francisco). The panel discussion will look at both films in conversation, over fifty years apart, reflecting on how the area has both changed and also remained the same.