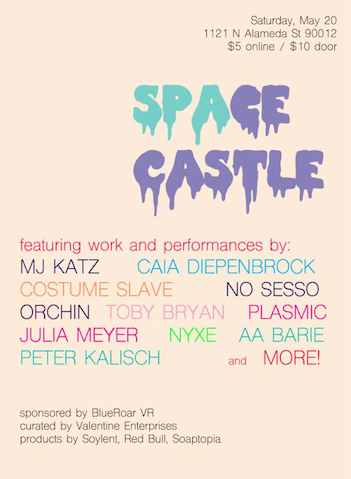 Saturday, May 20, 2017 - Sunday, May 21, 2017
7:00 pm - 11:30 pm
1211 N Alameda St, los angeles CA 90012
Space Castle is a future-spa themed arty and high-concept gallery experience. It follows the launch of a luxury spa on Mars after Elon Musk colonizes the red planet in the 2050s.
Artists and vendors will be exhibiting visuals, installation art, live music, guided meditation, pop-ups, VR demos, spa(ce) fashion, and more.
There will be three bars: food and drink bar, oxygen bar, and milkbar by AA Barie and Freddy Nightliker a la the Korova Bar in A Clockwork Orange.
Featured artists include Caia Diepenbrock, Costume Slave, MJ Katz, No Sesso, Nyxe, Orchin, Plasmic, Peter Kalisch, Toby Bryan.
In a time where there is budding dystopia in the world, a retreat becomes necessary. We are all tired from fighting, protesting, stomping, marching — we deserve a weekend to indulge and treat ourselves. With art, with friends, with spa treatments. This mini utopia of Space Castle is an aesthetic, conceptual healing spa for anxiety. In scary and dangerous times, self-care and inclusive spaces filled with those we love are extremely important for our souls' well-being.
Opening night 5/21 from 7pm-12.
Sponsored by BlueRoar VR.
Curated by Valentine Enterprises.
Products will be available by Soylent, Red Bull, and Soaptopia.
RSVP at spacecastle.eventbrite.com