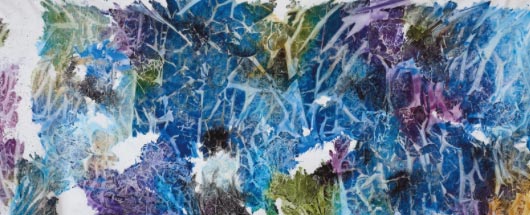 Thursday, October 12, 2017
12:00 pm
1950 Third Street, La Verne CA 91750
The University of La Verne is thrilled to announce the exhibition of master Action painter Rotem Reshef and her newest work, Time Traveler, a large-scale, ambitious installation made of interwoven, hand-painted canvas scrolls that will cover a 400 x 554 inch wall. Time Traveler will go on view in the Tall Wall Space art gallery beginning September 5, 2017 with an opening reception October 12. The exhibit will close December 15, 2017.
For Time Traveler, Reshef has created six scrolls of paintings interwoven horizontally and vertically into a beautiful, color-blended grid. Based on the seasons, four vertical hanging scrolls will depict Summer and Winter, while the transitional seasons of Fall and Spring will be depicted by the two remaining horizontal scrolls. The entire installation casts the four seasons as the passage of time, with each season interlacing to form one cohesive tapestry. "Each painting depicts varied techniques, color schemes and atmosphere I explored during the time I was working on it," explains Reshef. "Perhaps as a reflection of the era we are living in, where we are being flooded by images in a non-linear way from all directions, these six scroll paintings are not exhibited separately but together, interwoven in a collision of simultaneous climates."
In Time Traveler, Reshef is not just paying homage to the seasons, but exploring the paradox of how we use them as a tool to measure time. "Although this repetition of seasons occurs every year, it never repeats in the same way," says Reshef. "Each season of every year, is one-of-a-kind creation of nature that disappears, only to re-emerge again, differently." By that same token, if Reshef were to do another set of six scrolls depicting the four seasons, the randomness and spontaneity of her artistic process and technique would create a completely different body of work.