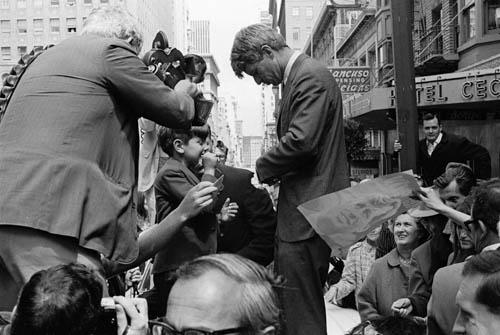 Saturday, August 19, 2017
3:00 pm - 6:00 pm
408 Carpinteria Ave., A18, Carpinteria California
RFK California, 1968
PHOTOGRAPHS BY JESSE ALEXANDER
August 19 – September 16, 2017
Opening Reception
Saturday, August 19, 3 pm – 6 pm
Artist Talk
Saturday, September 9, 4 pm – 5 pm
PATRICIA CLARKE STUDIO
410 PALM AVENUE A 18 CARPINTERIA
50% of all sale proceeds to benefit the FUND FOR SANTA BARBARA
Patricia Clarke Studio is thrilled to present the work of renowned photographer Jesse Alexander in his upcoming solo photographic exhibition: RFK: California 1968.
These never-before exhibited images were taken on the campaign trail in San Francisco and the Central Valley in California a short time before Bobby Kennedy was assassinated in Los Angeles. In light of the current political climate, the artist decided it was time to share them with the public.
As a teenager during World War II he was exposed to powerful images in the news magazines of the day. "I absorbed the photography of such masters as W. Eugene Smith, HenriCartier Bresson, and Edward Steichen, among many others. The style of the photojournalist is where I find myself today."
Alexander allows us to see not only across the generations of ideas, but how our visual language has changed, or conversely, remained the same over time. He is deeply involved in his subject, finding nuance in shadows, order in chaos, seeing in black and white and color, and using light and shadow to tell their story, capturing the human spirit.
Alexander has authored numerous books. His work has been exhibited in museums, galleries, and as part of an exhibition of sports photography at the 1996 Summer Olympics. A retrospective exhibition including more than 70 images traveled the world in 1998, sponsored by Chrysler Corporation.