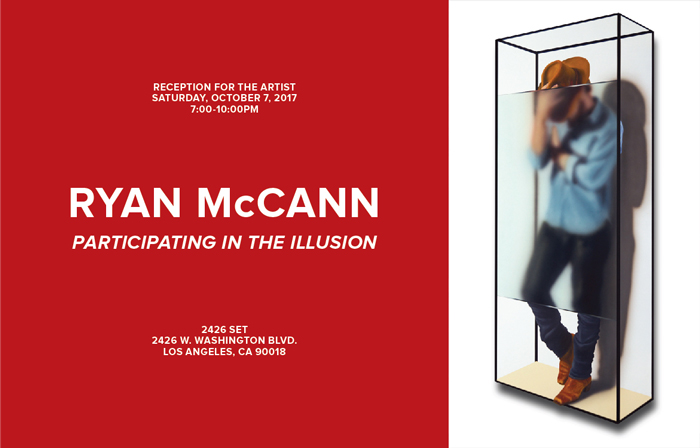 Saturday, October 7, 2017
7:00 pm - 10:00 pm
2426 W Washington Blvd, Los Angeles California 90018
Ryan McCann (b. 1979, Los Angeles) exhibits new paintings that skew reality, questioning what our brain interprets as being real. McCann's application of painted lines to devilishly cut panels deceive our eyes. The paintings subtlety becomes a suggestion that the mind is limited in its interpretation of what it is we are actually seeing. And because our minds are limited in its ability to perceive, what is there that we are actually not seeing?
In continuation of his practice of altering and manipulating objects, specifically wood, McCann finds another approach to transform the way we see things. Like a Rorschach test examines your personality characteristics and emotional functioning based on what you are seeing, McCann offers you a chance to investigate the way we see and explore the human body's mechanics of sight. When light enters the eye and strikes the retina, information is converted into an electrical signal that is then interpreted by the brain. McCann reverse engineers this process the way a hacker infiltrates a computer system, and gives the brain (computer) enough information to let it enter as "reality."
The reality McCann creates is full of dimension and life. He has developed a technique using acrylic paint to imply glass of different clarities. He maximizes the effect by placing objects outside of that glass, contrasting diffusion with crisp and dense lines of oil paint. His use of forced perspective and optical illusion has you believing and questioning what is actually there. Suggesting that everything in your reality may in fact be an illusion.
Ryan McCann grew up, lives and works in Los Angeles, California. He studied art and history while at the University of California, Los Angeles. In 2003, shortly after graduation and a stint with NFL's Cincinnati Bengals, McCann suffered a career ending injury. This led him back to pursue his passion, art. Since 2004, McCann has exhibited nationally and internationally and is included in several institutional collections. Participating in the Illusion will be McCann's fifth solo exhibition.