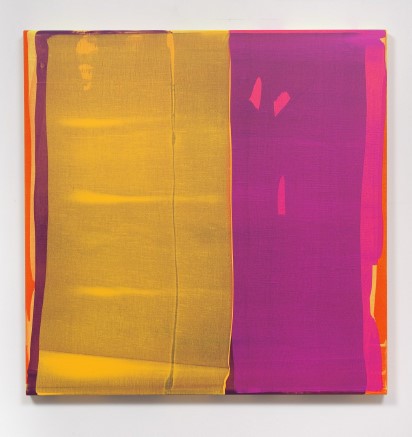 Saturday, November 4, 2017
7:00 pm - 10:00 pm
440 S. Broadway, , los angeles ca 90013
November 4 – December 3, 2017
Open both Saturdays and Sundays for the duration of the show
Opening Reception – Saturday November 4, from 7-10pm
Tiger Strikes Asteroid Los Angeles
The Bendix Building
1206 Maple Avenue, 5th floor, #523
Los Angeles, CA 90015, USA
(Los Angeles) Tiger Strikes Asteroid Angeles is proud to present Hover, Vibrate, Swell, Reverse, a group show of works by artists from Chicago and Los Angeles that investigate relationships between color, form, ambiguity and movement in contemporary painting practices. The exhibition is guest curated by Claudine Isé, director of Goldfinch Projects, Chicago, and includes works by Lecia Dole-Recio, Anna Kunz, Yunhee Min, Josue Pellot and Michelle Wasson. The show will open on November 4 and runs through December 3, 2017. The opening reception is November 4 from 7 – 10 PM.
When his handbook Interaction of Color was first published in 1963, Josef Albers put forth a new understanding of color as a relative, rather than static, medium that is "in continuous flux, constantly related to changing neighbors and changing conditions." Although Albers' then-radical teachings have now become standard, a number of artists today are revisiting his theories on color in ways that foreground its applications beyond the canvas proper and out onto the social world at large. Although the artists in Hover, Vibrate, Swell, Reverse do not explicitly link their interest in color and abstraction to politics, the spaces of openness and wonder each creates through their use of color, form, and ambiguously embodied space could indeed be experienced by a viewer as de facto political—exuberantly and gorgeously so—due to these works' implicit understanding of color as relational and their demands for active rather than passive forms of perception and engagement.
Foregrounding color as both primary material and subject matter, the works in Hover, Vibrate, Swell, Reverse do just what the exhibition title suggests: they enact various forms of movement while staying in place. Made of acrylic, canvas and brass, Michelle Wasson's intricate, exquisitely acrobatic hanging mobile Everything and Nothing, which Wasson describes as a symbolic representation of the artist's mind, conjures a sense of motion that is both literal and figurative, while Yunhee Min's paintings do so by way of fluid, curtain-like sheets of color applied in layers that vary in their sheerness or opacity. Anna Kunz "curtains" a large gallery window with painted fabric that in turn casts its own immaterial double on the adjacent floor and wall, enabling Kunz's painting to move through space by way of shifting sunlight, while Lecia Dole-Recio's gleefully decentered geometries animate the surface of collage paintings where certain portions of the composition appear to recede into a boundless depth, others to project upwards, as if the underlying material suddenly began to rise to the surface. Finally, Josue Pellot presents a line of fragmented, three-dimensional rectangles that duplicate one another while gradually decreasing in size. By breaking this formation apart, Pellot exposes and activates colored spaces within that appear to hover between the edges, in the process revealing the apparent "wholeness" and "whiteness" of these elements to be a structural and perceptual fiction.
Artist Bios:
Lecia Dole-Recio was born in San Francisco and currently lives and works in LA. She has had solo exhibitions at the Secession, Vienna, Austria, and the Museum of Contemporary Art, Los Angeles, CA. She was included in the 2004 Whitney Biennial in New York, NY, and in the 2014 biennial exhibition, Made in L.A., at the Hammer Museum, Los Angeles, CA.
Anna Kunz' work has been included in numerous national and international collections. She has had exhibitions in Los Angeles, Houston, Brooklyn, Dallas and San Francisco, the UK and Poland. Recent exhibitions include C2C Project Space, San Francisco, Verge curated by Mie Olise at Munch Gallery, Lower East Side, NYC, Luminae at White Box NYC,Spectral Landscape at Gallery 400, University of Illinois at Chicago, and presented a large outdoor painting at the Smart Museum on the University of Chicago's campus. She was a resident artist in the Marie Walsh Sharpe Studio Program in NYC, and has been awarded as artist in residence at theEdward Albee Foundation in Montauk, NY, 2014. Later this year and next, she will have upcoming solo exhibition's at Providence College, Rhode Island, the Hyde Park Art Center, Chicago, the University Club of Chicago, Galleri Urbane, Dallas/Marfa, TX, and currently has a solo exhibition of paintings at the McCormick Gallery in Chiago. She will participate in PULSE MIAMI Special Projects in December 2017. Anna has additionally worked collaboratively with architects, dancers and musicians to create Décor for theatrical and dance productions, namely for the Merce Cunningham Dance Company in 2009.
Yunhee Min holds a BFA from Art Center College of Design and an MA from Harvard University. Recent site-specific installations and architectural interventions have been on view at the UCLA Hammer Museum, at the LA County Museum of Art, at the Night Gallery, Los Angeles, and The Museum of Contemporary Art Santa Barbara Satellite, Santa Barbara, CA. Min has had solo exhibitions at LAXART, Los Angeles, CA; The Museum of Contemporary Art, San Diego, CA, project space; at ArtPace, San Antonio, TX, project space; the Yerba Buena Center for the Arts, San Francisco, CA; and Exercise, Vancouver, BC. Min's work has been included in exhibitions at the Los Angeles County Museum of Art, Los Angeles, CA; Silvershed, New York, NY; Sweeney Art Gallery, Riverside, CA; the Weatherspoon Museum, Greensboro, NC; the CCAC Wattis Institute for Contemporary Arts, San Francisco, CA; the Seattle Art Museum, Seattle WA; and Artists Space, New York, NY. Her work is in the collections of the Los Angeles County Museum of Art, The Museum of Contemporary Art, San Diego, and the UCLA Hammer Museum, Los Angeles, CA.
Josue Pellot currently resides in Chicago. He received his MFA from Northwestern University and his BFA from the University of Illinois at Chicago. Pellot has received attention through a number of solo exhibitions, among them: Universidad Catolica De Puerto Rico, Ponce, Puerto Rico; Museo de Arte de Caguas, Caguas, Puerto Rico; Chicago Cultural Center; and Hyde Park Art Center, Chicago. His work has been included in group exhibitions at: Museo de Arte Contemporaneo, San Juan, Puerto Rico; Contemporary Art Society, London; Vane Contemporary, Newcastle, England.
Michelle Wasson is an internationally exhibiting artist based in Chicago, Illinois. Her work has recently been included in exhibitions at Hyde Park Art Center in Chicago, REFUSALON in San Francisco, and Brand Library Art Center in Glendale, CA. Wasson received her MFA from Washington University in 2001, and has served as faculty at The School of the Art Institute of Chicago, Columbia College Chicago and The University of Illinois at Urbana-Champaign.
Guest Curator Bio:
Claudine Isé is the director of Goldfinch (www.goldfinchgallery.org), a contemporary projects space in the E. Garfield Park neighborhood of Chicago. She is also the director of the Freeark Gallery and Sculpture Garden at the Riverside Arts Center in Riverside, IL, and teaches in the School of Art and Art History at the University of Illinois-Chicago, and in the Graduate Painting and Drawing Department at the School of the Art Institute of Chicago.
For more information please contact Tiger Strikes Asteroid Los Angeles at losangeles@tigerstrikeasteroid.com, or visit our site at www.tigerstrikesasteroid.com. The gallery is free and open to the public from noon to 5 PM on Saturday and Sunday, with additional
hours by appointment.
On view at the other Tiger Strikes Asteroid Locations:
PHILADELPHIA: Joanna Platt: In Darkness
October 6 – November 11
NEW YORK: Didier William: We Will Win
October 20 – November 19
CHICAGO: Ass Grass or Gas
September 9 – October 14