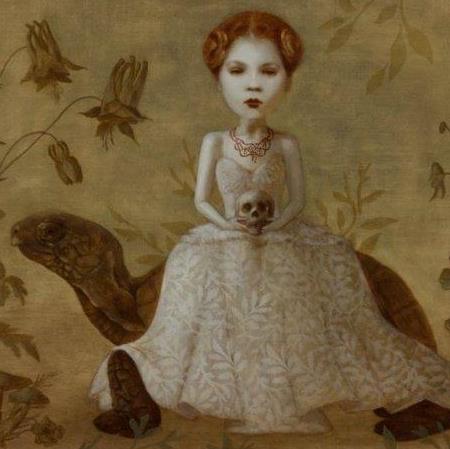 Friday, November 3, 2017
8:00 pm - 11:00 pm
4633 Hollywood Blvd,, Hollywood CA 90027
Los Angeles-based artist Deirdre Sullivan-Beeman's solo exhibition "Girls, Girls, Girls" will open at La Luz de Jesus Gallery on Friday, November 3. It represents her largest single body of work to date, and features 13 new paintings, executed in the time-intensive egg tempera medium for which she's known (the show also includes a resin sculpture and an original drawing). The artist's reception is from 8-11PM at 4633 Hollywood Blvd., LA, CA 90027.
In a "Creators" piece on her for Vice, Tanja Laden wrote, "Egg tempera was the medium of choice for Old Masters like Michelangelo, but once oil paint replaced it in the early 16th century, the once-omnipresent art technique became quickly antiquated. Now, Deirdre Sullivan-Beeman is resurrecting the use of egg tempera in her dreamlike paintings, while also reminding audiences of the archaic medium's characteristically mysterious sense of illumination."
In Sullivan-Beeman's show statement, she says, "Today's girl is an emerging phenomenon. What is her secret ingredient? It's not only about being treated equally, it's about being strong, present – a 'wonder woman.' The powerful femininity arising now is a direct translation of the yin energy that I idolize."
She adds, "My work comes from someplace subliminal…a magical realm. The characters that have been inhabiting my dreams are all here. As if I've been holding my breath, and this is the first, fullest exhalation."
Recently, Sullivan-Beeman was included in an exhibition at Merino Bottega D'arte in Florence, Italy, and the Life Is Beautiful Festival in Las Vegas, NV. She has previously shown at La Luz de Jesus and Corey Helford Gallery in Los Angeles, Greg Moon Art in Taos, New Mexico, and Stephen Romano Gallery in New York City.
Deirdre Sullivan-Beeman is a self-taught figurative and contemporary surrealist painter who uses modified oil and egg tempera techniques of the 14th century Old Masters to create works of magical realism that appear to glow from within. Celebrating the hard-earned wisdom of childhood, She depicts subjects who are often young, hauntingly innocent, and teetering on the edge of naïveté. She uses her personal dream journal to inspire her artwork, exploring Jung's collective unconscious with an overt curiosity for the bizarre and the esoteric, especially alchemy and the tarot.
http://www.sullivanbeeman.com/
https://www.facebook.com/sullivanbeeman
http://instagram.com/dsullivanbeeman/
Image shown: "Turtle Girl" (detail)