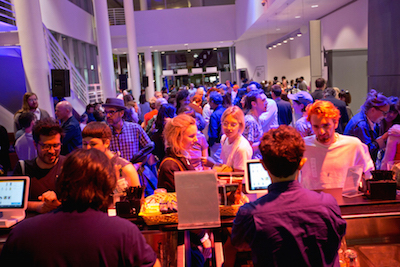 Friday, December 1, 2017
7:00 pm - 10:00 pm
701 Mission Street, San Francisco CA 94103
Join us to celebrate the opening of two exhibitions, Edgar Arceneaux and Yishai Jusidman: Prussian Blue, in the First Floor Galleries.
The evening will feature performances by musician and composer Zachary Watkins (formerly of Black Spirituals) and his collaborator Sharmi Basu. Both are resonant forces in the Bay Area experimental sound community, and they will perform both collaborative and solo compositions. Additional music will be provided by DJ Patrick Lotilla.
Proceeds from opening night party ticket sales will support YBCA's arts and civic engagement residency at Martin Luther King Jr. Middle School in San Francisco's Excelsior district, which helps students develop the creative, collaborative and critical thinking skills to become change makers in their communities.