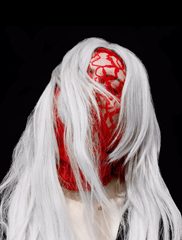 Saturday, September 30, 2017
7:30 pm - 8:00 pm
2349 So. Santa Fe Ave. Studio C, Los Angeles CA 90058
Butoh dancer and performance artist Caroline Haydon is proud to be presenting an original Butoh dance piece, MAYA // माया, as part of Studio C Gallery's opening event for their exhibition entitled BAREBACK.
An exploration into the complex layers of learned behavior, illusion, and linear time, MAYA attempts to unravel the habits and patterns we develop through our experience of reality, and how we identify the parameters of our universe through restraints outside of ourselves. An introspection on identity and energetic origins, this project challenges our already transforming ideas of the self; more importantly, it raises questions about the fabric of our essence and our cosmic, expansive origins.
Choreography and performance by Caroline Haydon, projection visuals by VR artist Damien Blaise, and original music by LA composer Michael Quinn.