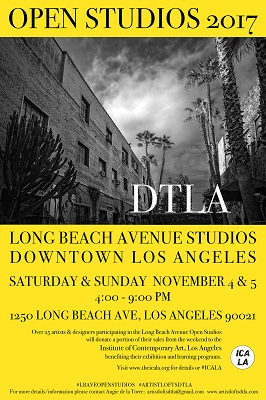 Saturday, November 4, 2017 - Sunday, November 5, 2017
4:00 pm - 9:00 pm
1250 Long Beach Avenue, Los Angeles CA 90021
4th Annual Open Studios event at 1250 Long Beach Avenue Lofts
Downtown Los Angeles
Resident artists open up their studios on Saturday November 4th and Sunday November 5th for the 4th Annual Long Beach Ave Open Studios. Twenty plus artists will be showcasing their work which includes painting, sculpture, installation, textile, ceramics, photography, prints, furniture, lifestyle and more.
Some of the participating artists will be Paul Arnold, Mayumi Bradshaw, Chris Collins, Lawrence Fodor, Lyn Gaza, Ricardo Harris-Fuentes, Jennifer Joseph, Stephen Kenn Studio, Mary Little, Colin Mann, Michael Manning, Gil Nevo, Camilla Taylor, ST, Sandra Vista, Stacey Wexler and more.
This year the Long Beach Ave Open Studios has a special collaboration with the new Institute of Contemporary Art/ Los Angeles. The museum will be on site with information and details about their current and future exhibitions. A portion of the proceeds from sales will benefit ICA/LA's commitment to the evolving and emergent DTLA art scene.
This free event will be open to the public from the hours 4pm to 9pm on both November 4th and 5th. There is ample free street parking or take the Metro Blue Line to the Washington Station stop.