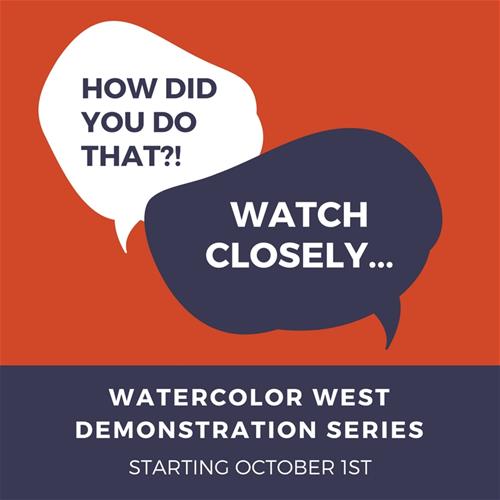 Saturday, December 2, 2017
10:00 am - 3:00 pm
1 Civic Center Cir, Brea CA 92871
Watercolor West in cooperation with City of Brea Art Gallery presents:
2017 Watercolor Demonstration Series
Join us to see five nationally-known watercolor masters discuss their work and careers. Watch as they paint live, ask them questions, and learn more about their techniques and styles in a lecture format with a digital presentation. No supplies needed, just bring a notebook and camera to enjoy a day of learning and observation with fellow watercolor enthusiasts.
Lian Quan Zhen 10 AM to 3 PM Saturday, December 2
Lian is a sought-after watercolor teacher in the U.S. and abroad. He will demonstrate his world-famous negative painting technique for capturing dynamic still lifes. Using a combination of traditional Chinese and Western methods, he will illustrate the process he uses to paint vibrant grape vines and leaves working solely with the three primary colors.
The entire Watercolor West Demonstration Series.
Oct. 1st – John Salminen
Oct 21st – Janice Cipriani-Willis
Nov. 11th – Rise Parberry
Dec. 2nd – Lian Quan Zhen
Dec. 17th – Timothy Clark
To register visit breagallery.com or call the Gallery at (714) 990-7731. For our refunds, cancellations, and photography policies, please visit our website.
City of Brea Art Gallery
1 Civic Center Circle, Brea, CA 92821 (714) 990-7731 breagallery.com breagallery@cityofbrea.net
Follow us on Facebook, Instagram, and Twitter @breagallery
REGISTER ONLINE
https://apm.activecommunities.com/brearec/Activity_Search/lian-quan-zhen-watercolor-demonstration/1140