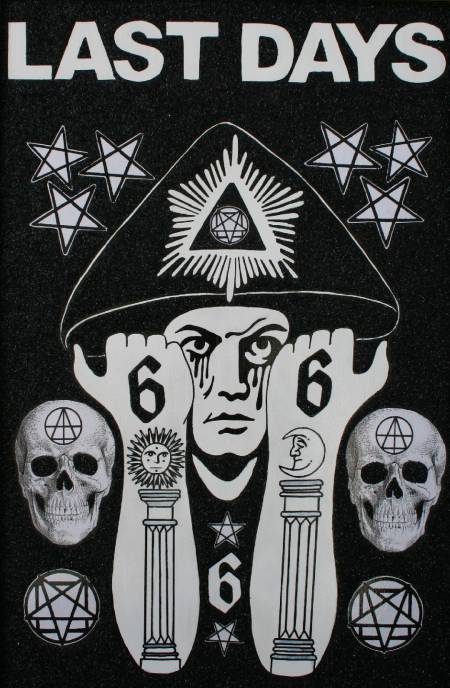 Saturday, October 7, 2017
8:00 pm - 11:00 pm
729 S. Spring St., Los Angeles CA 90014
LAST DAYS, curated by Thomas Monauni, features eleven artists–including musicians Franke "Groovie Mann" Nardiello (My Life with the Thrill Kill Kult), Jeremy Glenn Roberts (founding member, My Morning Jacket), and Rafael Reyes, aka Leafar Seyer (Prayers)—who live by the motto, "Do what thou wilt."
LAST DAYS opens October 7 at The Hive Gallery with an artist reception from 8pm to 11pm. The show runs through Octiber 28
"Do what thou wilt shall be the whole of the law!" With these words, Aleister Crowley proclaimed a new aeon, the Age of the Child, and an end to cultures and religions based on a dying and reviving god.
Monauni has assembled an exhibition of art created by artists whose will and self-knowledge drives them to create not only art, but to create themselves and their worlds, and to cause change to occur in accordance with their will.
Artists in LAST DAYS are: Michelle Albuquerque, Michelle Ary, Shelley Brien, Lisa Derrick, Tim Lacey, Lizz Lopez, Franke "Groovie Mann" Nardiello, Tatomir Pitariu, Rafael Reyes, Jeremy Glenn Roberts, and Frater V.B.N.