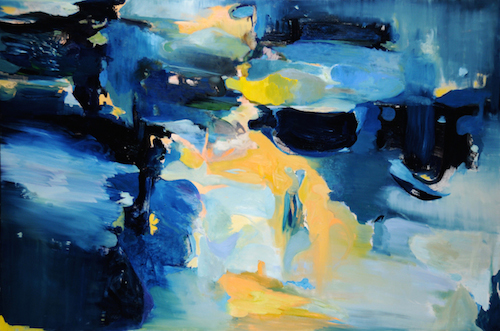 Saturday, April 29, 2017 - Sunday, April 30, 2017
11:00 am - 6:00 pm
2100 North Main Street, Los Angeles CA 90031
Los Angeles – (April 20, 2017) – In what is marveled as the world's largest art complex, The Brewery ArtWalk of Los Angeles is scheduled to once again open its doors on Saturday, April 29th & Sunday, April 30th, 2017 with over 100 participating resident artists showcasing their artwork. Celebrated Abstract Artist Joshua Elias will open his studio for attendees to view his current, unique collection of paintings as a long-time Brewery resident and valued contributor to the ArtWalk.
Joshua Elias, a Chicago native, is a lyrical Abstract Artist, Writer and Poet known for meticulously interweaving the three worlds in his oil paintings. Raised in Wilmette, Illinois and Bexley, Ohio, Elias is highly engaged in utilizing raw materials, making paint, or working on fine linen, with all foundations acting as a vehicle for a greater understanding of painting. He also incorporates humor as a stint and abstraction as a vessel to hold an interior landscape of a higher world, with a consistent thematic interest in the interstitial. http://joshuaelias.com/site/
Through his writing, Elias has come to be known for his poetic, sometimes comical titles for his artworks. Upon completion of a BFA at San Diego State University, he continued his studies at Otis Parsons Los Angeles and at The Design, Art and Architecture School in Santa Monica, studying with Laddie John Dill, George Herms and Ronn Davis. Early on in his painting studies, he privately apprenticed with historical classical technique painting master Sylvana Barrett, a consultant at the Getty Museum.
Joshua Elias has received many honors including an Artist Residency at Fundacion Valaparaiso in Andalucia Spain, inclusions at the RAND Corporation art collection, as well as numerous private and public commissions. In March 2017, President Guðni Th. Jóhannesson of Iceland purchased one of his paintings. Elias works daily in his art studio at The Brewery Arts Complex in Los Angeles.
The Brewery ArtWalk provides free admission and parking, and takes place on April 29th & 30th from 11:00 am – 6:00 pm at the following location:
2100 North Main Street, Los Angeles, CA 90031
For more info on the ArtWalk, including parking, public transportation, food & drink, please visit the website at: http://breweryartwalk.com/visit