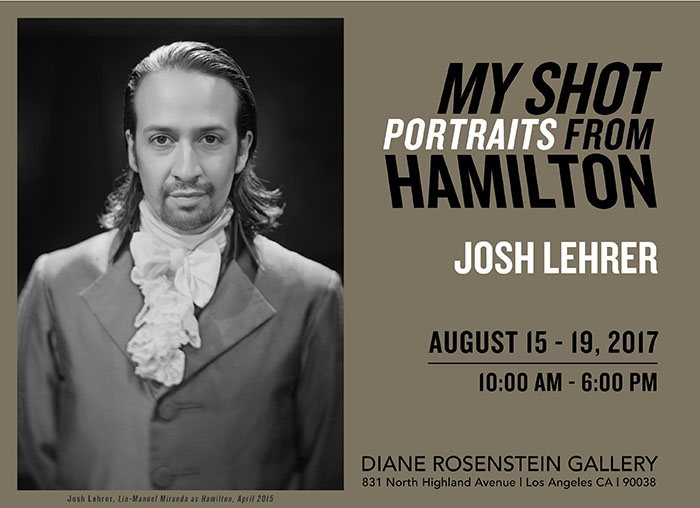 Monday, August 14, 2017
6:00 pm - 9:00 pm
831 North Highland Avenue, Los Angeles California 90038
Diane Rosenstein is pleased to announce MY SHOT: PORTRAITS FROM HAMILTON, an exhibition of photographs by New York-based artist Josh Lehrer. This exhibition coincides with the Los Angeles premiere of "HAMILTON: An American Musical", opening on Wednesday, August 16th at the Pantages Theatre in Hollywood. For MY SHOT, Lehrer captured portraits of the original Hamilton cast using antique cameras and lenses, then produced silver gelatin prints to bring a richness and timeless beauty to the images. All in an effort to echo what "Hamilton: An American Musical" brilliantly achieves in enlivening our own history in a way that makes it so relevant and present for us today.
"HAMILTON" is a cast of revolutionaries. Night after night, this band of young rebels raises their voices to the darkness in an inspiring uprising of song and spirit. They are at once our history and our future, inciting rebellion and leading the way to change. Like the revolutionaries who embraced Alexander Hamilton's vision for a new America, the remarkable actors in these photographs embraced Lin-Manuel Miranda's vision for a new American musical.
A portion of sales from this exhibition will benefit The Coalition for Humane Immigrant Rights.