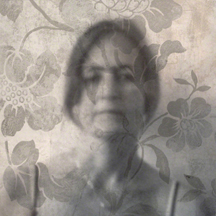 Wednesday, September 20, 2017
11:00 am - 1:00 pm
Administration Building, 7075 Campus Road , Moorpark CA 93021
Janine Brown
The Wallflower Project
September 5 – October 6, 2017
Reception and Artist Talk
September 20th, 11:00 am
Applied Arts Building, Room 136
The Moorpark College Art Gallery is pleased to present a solo exhibition by Los Angeles artist Janine Brown. For the exhibit, Brown will be displaying "The Wallflower Project," which consists of photographic portraits that have been created with a pinhole camera using a double exposure method and mixed media. These ghostly double images combine wallpaper images with traditional portraiture. The term "wallflower" has been used to describe people that are shy or socially awkward. Unable to engage socially, they almost disappear into the sidelines. Through these subtle images, Brown asks viewers to take the time to investigate her subjects, and delve more deeply into this reluctant relationship.
Janine Brown received her BFA from Iowa State University and an MBA in Marketing from New York University. She exhibits her work extensively throughout the US. Most recently Ms. Brown had a solo show at Gallery 825 in West Hollywood and has exhibited in group shows at ArtShare LA, LACDA and at the OCCCA. To learn more about Janine Brown, please visit her website
www.janinebrownstudio.com.
Moorpark College Art Gallery
Administration Building, 7075 Campus Road, Moorpark, California 93021
Gallery Hours Monday – Thursday: 9 am – 9 pm & Friday: 8 am – noon
For more information contact: Erika Lizée, Gallery Director at elizee@vcccd.edu
Directions: I-5 N. CA-118 W exit. Exit 19B for Collins Dr. Turn right at Collins Dr. Turn right at Campus Park Dr. Continue on Campus Rd. Park in P-Lot A. Machine for parking is in the lot ($2.00). We are in the Administration Bldg (A) next to the President's Office.