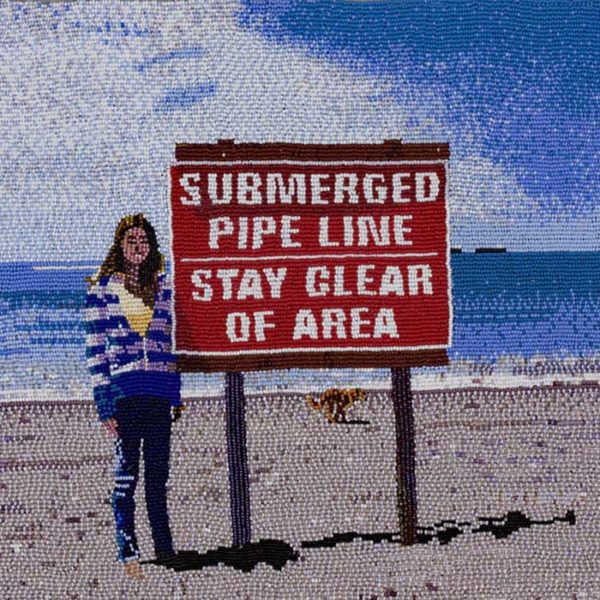 Saturday, September 16, 2017
6:00 pm - 9:00 pm
5504 West Crestridge Road, Rancho Palos Verdes California 90275
glass / cedar / grass
Corey Stein, Lisa Telford, Corey Bulpitt + 11
September 16 – November 26, 2017
Opening Reception: September 16, 6–9pm
Palos Verdes Art Center is pleased to announce glass / cedar / grass, featuring contemporary beadwork by Corey Stein, innovative cedar basketry by Lisa Telford, and carving and painting by Corey Bulpitt. The exhibition opens September 16, 2017 with a reception open to the public, 6 – 9pm. Trained in their families' traditional Haida art making techniques and materials, these artists from the Northwest are discovering new forms of expression to comment on contemporary life.
Also included are masks by guest Kwakwaka' wakw artist Beau Dick, Nuu–chah–nulth artist Joe David, and Tlingit and Kwakwaka' wakw artist Gary Peterson as well as grass baskets by guest Cahuilla artists Roseann Hamilton, Steven Estrada, Sean and Tangie Bogner, Starla and Kateri Madrigal, Morongo artist Victoria Casro Chubb and Black ash basketry by Anishnabe artist Kelly Church.
Corey Stein transforms the art of hand-sewing glass seed beads on felt to record urban street scenes, make photo-inspired portraits, and comment on environmental concerns. Born in Los Angeles, many of her formative years were spent in Seattle. Family trips up and down Interstate 5 added to what she describes as her "schismatic view of things." She attended Cal Arts, where she was mentored by John Baldessari, with whom she shares a fondness for humor and storytelling. The exhibition will feature recent two-dimensional beadwork by Stein as well as a selection of sculptural pieces.