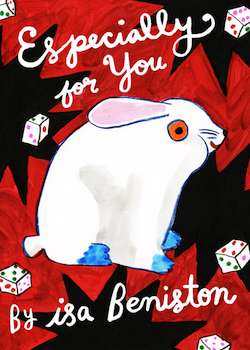 Saturday, April 29, 2017
7:00 pm - 10:00 pm
5319 york blvd, los angeles ca 90042
Co-LAb Gallery is pleased to announce LA-based artist Isa Beniston's second solo show, Especially for You, opening April 29th from 7-10 pm.
As Beniston wraps up her first year working on her retail line Gentle Thrills, the show is a reflective moment that presents finished artwork, working drawings, and apparel alongside one another. Especially for You addresses the thin line between the art world and the retail industry by presenting Beniston's uniquely playful drawing in two different contexts: apparel and works on paper. Rows of drawings communicate across the room with hand-painted blouses, asking viewers to consider what factors affect the monetary as well as the aesthetic value of a work.
An opening reception will be held Saturday, April 29th from 7-10pm. The reception is free and open to the public. Co-LAb gallery is excited to announce that Georges Duboeuf will be co-sponsoring and providing wine for the event.
Especially for You will be on display throughout the month of May, from April 29th until May 14th. Gallery hours are Tuesday through Saturday from 11am-6 pm, and Sunday from 11am-5pm. Co-LAb Gallery is located at 5319 York Boulevard in Los Angeles, California. For early preview information contact us at info@co-labgallery.com.
Isa Beniston is an artist living, teaching, and working in Los Angeles. She graduated from UCLA in 2014 with a B.A. in Art & Arts Education. She has exhibited at leiminspace, Slow Culture, and Co-LAb Gallery in Los Angeles, Turpentine Gallery in Oakland, and in Copenhagen, New York, Stockholm, and Paris with the group show Got it For Cheap in 2016. In addition to her own artistic practice, she is the creator of Gentle Thrills. http://www.isabeniston.com/
Georges Duboeuf is a family-owned winery in the heart of the Beaujolais region of France with a rich history of collaborating with artists to create iconic labels for Beaujolais Nouveau, a young fresh wine released every year on the third Thursday of November. The winery is currently in the process of deciding on a finalist for this year's Beaujolais Nouveau label. Anyone can participate in the voting process through their Instagram. https://www.instagram.com/