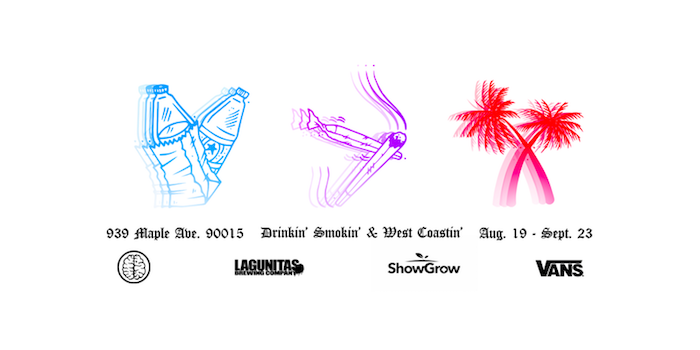 Saturday, August 19, 2017
7:30 pm - 11:30 pm
939 Maple Avenue #200, Los Angeles CA 90015
Think Tank Gallery and Vans present Drinkin' Smokin' & West Coastin' – A Group Love/Hate Letter to LA
The Think Tank is happy to return to their old venue in DTLA with a month of art and events about our hometown, and all the stereotypes that come from it – especially the true ones. It's a reflection on classic Best Coast culture from the '84 Olympics to the Kings/Lakers rivalry, the period when we grew up with our city, and all the great and terrible things that happened in between.
80+ artists. 420 Lounge. DMV Dive Bar.
Opening August 19th 7:30pm-1am. Running until September 23rd with nightly events.
http://drinkinsmokinwestcoastin.com