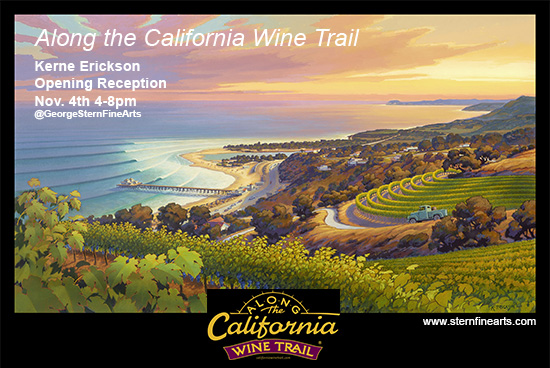 Saturday, November 4, 2017
4:00 pm - 8:00 pm
8920 MELROSE AVE, W HOLLYWOOD California 900695614
Renowned artist Kerne Erickson, known for his Retro Realism travel paintings has turned his eyes on his home state of California, and the intriguing landscapes devoted to viticulture for the exhibition,
Along the California Wine Trail. Several years work has resulted in a collection of original paintings capturing the visual drama that takes place throughout the state.
Along the California Wine Trail opens November 4th at George Stern Fine Arts in West Hollywood from 4 to 8pm. The exhibition is accompanied by a publication of the same title by author and past assistant winemaker, Jerry Stroud. The book is a story about the American Viticultural Areas of California, illustrated by Kerne Erickson.
Please visit the Exhibitions page on the George Stern Fine Arts website and provide your name and address to receive an invitation to the grand opening.
www.sternfinearts.com