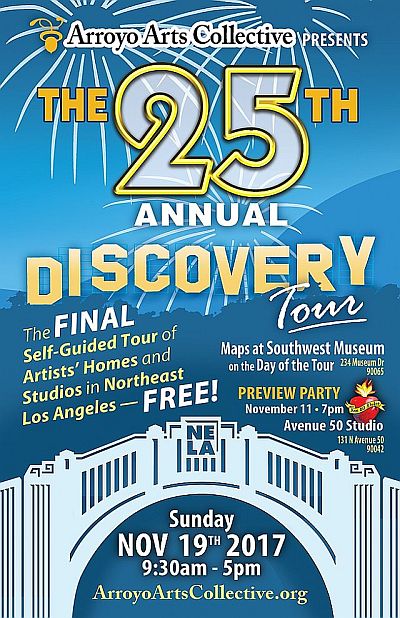 Sunday, November 19, 2017
9:30 am - 5:00 pm
234 Museum Drive, Los Angeles California 90065
After twenty five years, the ground breaking Arroyo Arts Collective Annual Discovery Tour is going out with a bang! Our last Tour will be Sunday, November 19, 2017 from 9:30 a.m. to 5:00 p.m. and admission is free.
The Arroyo Arts Collective (AAC) invites the entire Northeast Los Angeles (NELA) community to visit the homes and studios of the artists who make up the 2017 Discovery Tour! As a token of gratitude for a great run of 25 years, this one is on us! The Final Tour starts at the Southwest Museum, 234 Museum Drive, Los Angeles, California 90065, where participants receive a map and tour badge. Maps will be available at 9:30 a.m., and homes and studios open at 10:00 a.m. So all you have to do is show up on the day of the tour, get your badge and your map and off you go!
The assembly of artists, ranging from emerging to well established, and from fine artists to craftspeople, will open their doors to you as part of one of the oldest and most celebrated art tours in Los Angeles.
As a Tour goer, you get to see painting, drawing, mixed media, sculpture, jewelry, woodworking, and many other forms of artistic expression in a wide range of styles. On top of that, you get the rare chance to admire an array of historic homes and colorful art studios in this vibrant community. Whether you are a savvy art collector looking for an edgy addition, a new home owner looking for wall decor, a fashionista looking for a cool pair of earrings, or a holiday shopper looking for that one-of-a-kind gift: you will find it!
A themed Preview Party featuring sample work from Tour artists will be held Saturday, November 11, 2017 at 7:00 p.m. at AVE 50 Studio, 131 N Ave 50, Los Angeles, CA 90042 in conjunction with the NELA Second Saturday Art Walk. As we are going out on number 25, our preview party for the Final Tour will be a flapper party! Twenties attire is strongly encouraged but not required. Refreshments and live music will delight party-goers into the night while they sneak peek on some of the goods for Tour day!
Although this is our final Tour, the Arroyo Arts Collective will continue to forge ahead with its dedication to neighborhood involvement in the arts. Innovative art-driven activities and exhibitions are on-going. Art exhibits, poetry readings and theater shows are just a few of the events to watch for. Also keep an eye out for Teatro Arroyo and Tierra De La Culebra Art Park, now under stewardship of the Arroyo Arts Collective, as they bring new programs and energy to our community.