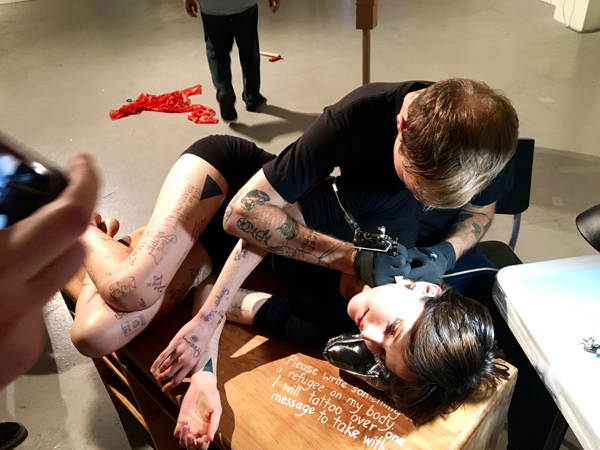 Eternal Messages to The Middle East
Irrational Exhibits 10th Anniversary: Mapping the Divide at LACE
Saturday afternoon provided a steady viewing of the last glimpses of "Irrational Exhibits 10th Anniversary: Mapping the Divide" curated by Deborah Oliver, with a  closing performance by LA-based artist, Lara Salmon, at Los Angeles Contemporary Exhibitions in Hollywood.
Our first engagement was a blindfolded LA-, Joshua Tree-based artist Claudia Bucher, suspended in a transparent swaying door that could be opened and shut, reminiscent of Leonardo Da Vinci's The Vitruvian Man. It made us consider and question our own bodies' endurance. Next we fell into conversation with Salmon where she explained her humanitarian involvement in the Middle East. She was about to get tattooed with a few messages that participants had written on her arms and legs for the Syrian refugees when she returns to the Middle East. Caught completely off guard, we were encouraged to write our own notes, sigh… I was unable to conjure up any words of wisdom.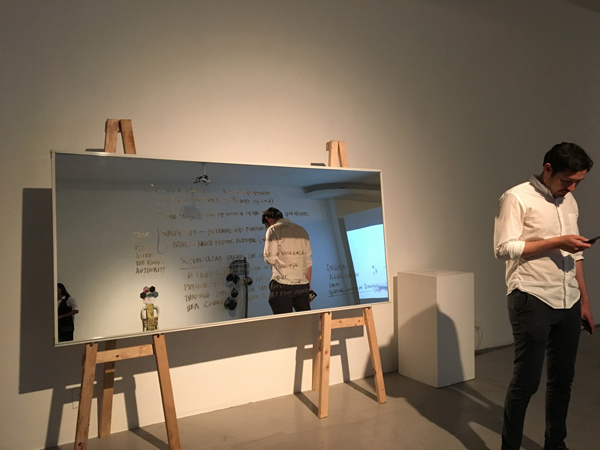 This intimate setting sparked various discussions of getting tattooed as we listened diligently to Salmon remarking over the messages on her body; what, where, and of what size. We became infatuated with The Corner Store owner, Stacey Nishimoto's serpentine body and her left extremity tattoo. Getting caught up in the Eastern symbolism of it, needless to say, we were ready to get some tattoos ourselves!
As swiftly as it began, it ended with a few witnesses including artist, Kohshin Finnley who experienced a temporary action becoming permanent to Salmon forever.