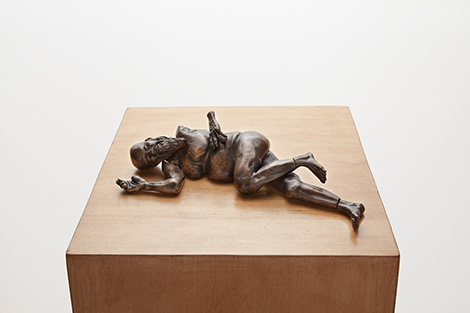 Eric Wesley
356 S Mission Rd / Los Angeles
Eric Wesley loves to kid around and unbalance the viewer. In this survey or rearrangement and reworking of objects from his production dating back a decade, he checks in with a wide variety of works distributed in a clock pattern throughout the spacious warehouse floor of 356 S. Mission. He anchors the exhibition with I Beam U Channel (2015), a central monumental steel piece that transforms from I-beam on one end to U-beam on the other (a previous iteration of this work was made of camouflaged painted wood). This once trompe l'oeil beam that spins, ominously suspended on a single steel thread,  mimics the trajectory of an invisible monster burrito—Inch-Alota (2015)—spanning the entire space and visible only in cross-sections exiting the building on each side as stained glass inserts.
Other disassembled series appear transformed throughout. A trio of overturned and variously positioned little forklift-like carts, D'Cart X,Y and Z (2010–15) mirror the Cartesian X, Y, and Z coordinates and are situated next to Entangled Pictures 1, 2 and 3 (2010–15): canvases splattered with primary colors and attached to larger unprimed canvases. The artist's use of space and references to Cartesian mathematics serves to unite the series and suggests a meaning encoded in the physical placement of objects in space. It is as if he were looking for a site-specific definition where the space of his array in the larger world could be a crux. And then he upends any site specificity with the spatial equivalent of a shrug in his re-presentation of the "Spa" series.



Originally a single work, Spa-Versation, Spa-Brary, Spafice (Balzac Gigante) and Spa-Cial (all 2007–15) are presented as separate units. Each work with its light steel framework and white tile inlays seems a cross between spa equipment and a not always benign restraining device for office workers. Spa-Versation provides a seat for someone where they get blasted by a small but powerful flame gun. Spa-Cial is a tipped over dribbling fount to bathe or rinse in that isn't working, destroyed (literally in NY by Hurricane Sandy) and reconstituted as ruins.
Miniature pedestal-mounted figures—New Realistic Figures (Sleeping) (2009–15)—cast in plastic and painted or with faux finishes are placed here and there. Wesley adds to his 2009 renditions of contemporary white philosophers like Jean Baudrillard and Michel Foucault, ancient figures such as Confucius and Plato, who are portrayed as dark-skinned. Some are missing sections of their arms, and all appear to be asleep. Could this be Goya's "Sleep of Reason"? Maybe, but I suspect the artist prefers to let our imagination run rampant. His much ado about nothing and special effects of sound and fury add up to a Dadaist feat and are good fun, too. Perhaps he is asking "What is all the hubbub about," as in the ungainly, quasi-industrial obelisk in the entrance of the gallery, which announces with its title: "WTF."