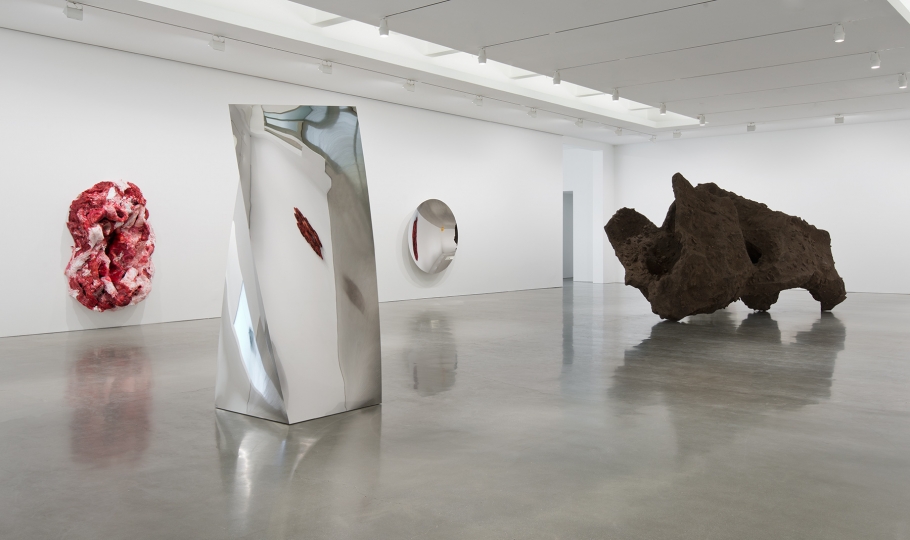 Between Earth and Sky: Anish Kapoor
Regen Projects, through March 7, 2015
There's always a bit of suspense walking into an exhibition of Anish Kapoor's work.  At this point in the artist's career, we may have certain expectations about what we will see, which are not infrequently satisfied (i.e., brilliantly finished, reflective surfaces, rich color, precisely sculpted and obscured depths and distortions that draw us in and throw something back at, or simply upon ourselves, occasionally adding a bit of aural trickery).  But there's also something that knocks us a bit off-balance, that suspends us, almost literally, between those superficial expectations and what unfolds in and around the work—and ourselves—the personal, social and physical space of the environment.  We glimpse this straightaway just walking into the Regen Projects space, where Kapoor has mounted his fifth exhibition with the gallery.  What might be a teardrop window into the main gallery space throws dark and light ribbons of reflection—the reception desk in a watery bead, structural elements, the gallery doors and windows.  It's a mirror, of course—but to call it one-way seems almost simplistic, considering the way it reflects and refracts light across its complex elliptical concave-convex distorted surface.  Approaching more closely, the shape also resembles the wasp-lens of mirror sunglasses, implying a view from the gallery space on the other side of the wall. 
The main gallery is dominated by what first looks like a monumentally scaled scholar's (or philosopher's) rock, but quickly reveals itself to be hollowed out—an exploded tree trunk or earthen cornucopia, more than 15 feet long.  Directly across (and distinctly less organic) is an 8 foot-plus tall torqued prism in polished steel.  Between these sharply contrasting statements, hangs an explosion of what the artist himself described in floral or botanical terms, but that may appear to other viewers as carnal—in pinks, livid whites, and blood-reds—something that might easily pass for a tangled mass of exploded muscle, flesh and vasculature.  Kapoor titled these efflorescent sculpture-paintings, Keriah.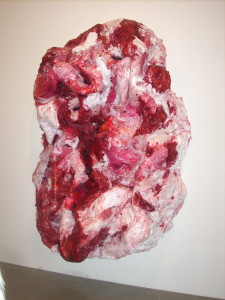 'Keriah' refers to the ritual tearing of garments in the traditional Jewish funeral ceremony (usually immediately preceding funeral service or burial); but it's worth noting that the 'tear' makes reference to ancient traditions of tearing at actual flesh and 'exposing the heart.'  You may or may not imagine valves and ventricles amid this cloudburst in silicone and color pigments, but its raw, visceral stasis makes a remarkable contrast to the linear and spatial abstractions that careen across the reflective surfaces of the polished steel pieces. 
Kapoor has worked with dense and saturated colours and pigments before, though rarely in such 'painterly' fashion.  Until relatively recently, most of this work was also conceived for a more conventional 360-degree or multiple viewpoint installation.  But the exceptions have been striking:  e.g., the bloody 'blossoms' of Kapoor's 2009 installation, Shooting Into the Corner.  The implicit violence here is not mere happenstance.  With random violence an everyday fact of life and resurgent barbarism in every part of the world, this may be what spring will soon look like on our increasingly desertified planet.   
The hollowed-out earthen vessel in the center of the gallery had its own 'blossom' aspect, if you stood directly in front of its largest opening; and earth (embedded into resin) was in fact one of the materials used in constructing it.  From that position, you saw that it was a kind of chambered cave, curling across several 'thresholds' into the sculpture's darkest recesses.  Drawing attention to the wing-like projections at the top of the cave's entrance, Kapoor has titled the work, Gabriel, the Angel, stops and listens to the silence of the cave.  It was impossible to look at the work and not be simultaneously reminded of the work of both Michael Heizer and James Turrell (the latter especially, in tandem with Kapoor's densely hued, satellite-dish resonant sculptures—three of which were on view in the adjacent gallery).  Another journalist at the press preview mentioned Smithson.  Another reference point was Kapoor's dirigible-like installation at the Guggenheim, Memory.  Kapoor remarked that he "saw the 'wings' calling" to the viewer.  The biblical (or more precisely, 'Abrahamic') reference made me curious:  it carries a heavily freighted allusion—specifically to a mountain cave near Mecca and the 'first revelation' (of Muhammad) that yielded the following verses from the Quran:
In the name of Allah, the Gracious, the Merciful.
Convey thou in the name of thy Lord Who created,
Created man from a clot of blood.
Convey! And thy Lord is Most Generous,
Who taught man by the pen,
Taught man what he knew not. 
[Quran, 96: 1-5]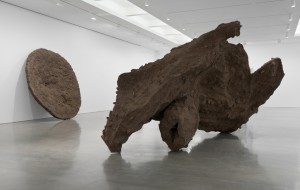 Another large earth-resin work, propped at an angle directly opposite the 'cave,' Tunnelling Shadow, mediated between these Turrell-Heizer/Smithson polarities.  As with, Gabriel, … cave (which was conceived specifically for the Regen Projects space), there was nothing incidental about the placement of this work; or the Full Moon concave steel sculpture installed on the opposite wall—with its pronounced 'gravitational' zone from the 'flip' of image reversal between focal point and spherical center to the variously focused and distorted figures across its (large—180 cm. diameter) gradient reflective field.  As with so many of his quasi-oracular sculptures, Kapoor has a way of making his absence or invisibility a kind of signature. 
This is not to ignore the inherent theatricality of so much of his work.  Setting aside those aspects of Gabriel, … cave and Full Moon, Kapoor made gorgeous theatre out of a simple circle (well, in gold and fibreglass) folded into one corner of the gallery—the smallest piece in the show.  What might have been a purely geometric/optic essay became a gold and copper-toned hyperbolic architecture—a foil to the hulking 'Shadow' only 20 or so feet away.  (Another exquisite 'fleurs de sang' Keriah (I) was the last work in the space.)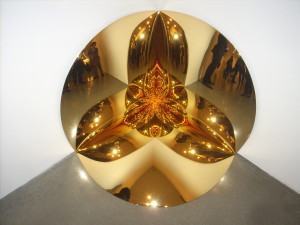 If there has been an evolution in Kapoor's work over the last several years, it has been within this space between 'revelation' (whether 'divine' or simply epiphanal) and memory, including the fragmented, reconstructed or simply forgotten.  The actuality disappears, leaving an abstract reduction or something else altogether in its place.  Or we may 'tear' it open to expose something intimate or entirely illusory.  The oracular, limitless, even sublime quality of earlier work gives way to something much more fragile and tenuous, however daunting in mass and scale.  Revelation in these terms may simply be what is left after everything else is cleared away—where the sky's edge elides into the earth.